I have been seeing some changes in my hair lately which is weird to me. I guess that shows that the older you get and when menopause sets in, the more things change. My hair has always been pretty thick with average hair loss. Over the past few months, I have been seeing a bit more hair on my comb and even seeing hair on my shoulders that has dropped there during the day. That was a first! I had heard about vitamins for hair, but never really thought much about them until my friends at NeoCell told me they had a product that was just for hair. Sounded like the product to review.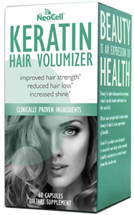 I was sent the NeoCell Keratin Hair Volumizer that contains clinically proven natural ingredients to help with improved hair strength, hair volume and shine. Just what I was looking for! The product comes in capsules that you only have to take 1 time a day, thankfully. They are easy to swallow and there was no after effects. Big Plus! I have been taking these for almost 3 weeks and while the results are not dramatic, I can tell that my hair is enjoying the additional nutrients.
* This post contains affiliate links. If you make a purchase, we may or may not receive a small commission which helps to support this site. Thank you!
The hair loss I was experiencing is back to normal. The comb is cleaner and no more furry shoulders! My volume of hair is about the same, but then again I have always had a lot of volume. My hair does feel softer and it looks healthier overall. It has a nice sheen and looks pretty.
This NeoCell Keratin Hair Volumizer contains Vitamin C, Collagen and Keratin that combines to give your hair the food it need to look great and stay healthy through all of life's' changes. All of that comes from the inside which is why taking a supplement like this instead of trying every styling product out there will help you hair look good in the long run.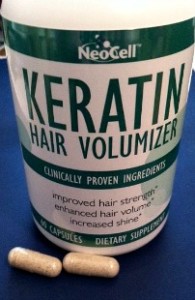 Menopause sucks, but I know that my hair can still look and feel good with this Keratin Hair Volumizer. This is one that is staying on my supplement list!
Disclaimer: Chris has received no compensation for this post but did receive free product for purpose of review. Please read our Official Rules before entering this giveaway. We must receive all entries by the end date of the contest and the odds of winning are determined by the number of entries received. No purchase necessary to enter. Two Classy Chics is not responsible for prize fulfillment. All Content on this site is Copyright of the Two Classy Chics All Rights Reserved.