Aging is not something I am looking forward to. Matter of fact, now that I am in my mid 40's, I am starting to see all kinds of signs that I am getting old and I don't like it, nope, not one bit! One of the things I am struggling with right now is dark under-eye circles and puffiness. I look like I was out all night partying when I was really home in bed sleeping like a baby. Sigh.
Let me introduce you to a product that I have been using for the past 2 to 2 1/2 weeks and immediately fell in-low with it.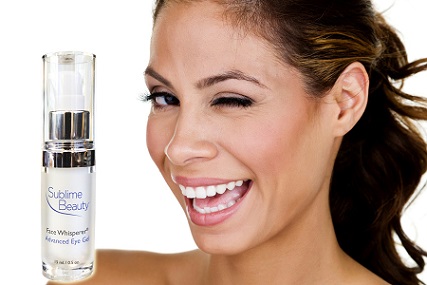 Face Whisperer Advanced Eye Gel from Sublime Beauty is giving me quick results and helping me to look younger. This is an advanced gel that has been formulated with patent ingredients to help diminish under eye problems.
Utilizing clinically proven, anti-aging ingredients that were developed in France, the Face Whisperer Advanced Eye Gel helps to reduce the appearance of dark circles, puffiness and fine lines. The eye serum includes three key ingredients to make a big impact:
* Eyeliss – increases lymphatic function, reduces capillary permeability, boosts elasticity and decreases inflammation.
* Haloxyl – reduces dark circles by eliminating the pigments in the blood responsible for discoloration while anti-inflammatory properties decrease puffiness.
* Matrixyl – doubles collagen production which is essential for smooth youthful skin.
How to Use: The product should be used twice a day around the eyes alone or underneath your makeup. 
My Thoughts: The product comes in an easy-to-use pump bottle which I love! I am not a fan of digging creams out of little jars. I started using the product right away and applied it twice a day. In the morning I applied it around my eyes & underneath and then applied my makeup over the top. After I cleansed my face at night, I applied it again and simply went to bed.
The product has a really nice consistency to it, not runny like water but yet not a cream. It feels really nice and cool on your skin when you apply it and it absorbs into your skin quickly. It doesn't leave your skin feeling sticky, greasy or oily. It comes in a pump-style bottle which looks really elegant & high-end sitting on my vanity table.
After about a week of using it I definitely saw a big improvement in my dark under-eye circles. I would estimate a 15% improvement in just after one week of use. By the end of two weeks, I would say that this jumped up to 35% and I am really excited to see how it does as I continue to use it.
My dark circles are diminishing, the fine lines at the corner of my eyes are also diminishing and I have to say…around my eye area looks healthy & more moisturized too. Super impressed!
Head on over to Sublime Beauty to learn more about this product and to check out the other products that they have to offer. You can purchase the Sublime Beauty products on Amazon.com.

Disclaimer: Shelly Hill has personally reviewed the product listed above. Shelly has not received any monetary compensation for her review. Shelly did receive a free product to try out so she could evaluate and use it for her review. Her thoughts & opinions in this review are unbiased & honest and your opinions may differ. Two Classy Chics is not responsible for delivery of any giveaway items won from this blog. We are not responsible for injury or mis-use of any products won from the Two Classy Chics Blog. Please read our Terms of Service & Disclaimer Policy before entering our giveaways. This giveaway is not affiliated with Facebook or Google+ in any way. Thanks!