I love my hair but lately I have been seeing my highlights not last as long and my hair color changing a bit from what I am used to seeing. My mom used to say that getting old is not for sissies and I think she was right! Things that you cannot control, like changes in your hair and skin, are frustrating, to say the least. I was really happy to see that one of my favorite hair product companies has a lovely shampoo and conditioner made for the protection of color treated hair and I was excited to get them to try out!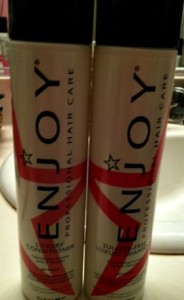 ENJOY Hair Care has been making awesome hair products for many years. A favorite of professional salons, I love that I can buy them too! Just use their salon locator or checkout professional salon supply stores. I was send the ENJOY Luxury Shampoo and Conditioner to review for you today.
One of the first things I noticed about this product is how thick it is! Honestly, you can just use a small amount and you get a head full of lather. The scent of the shampoo is a soft fruit that reminded me of tutti-fruitti gum LOL It was a pleasant surprise.
I usually only shampoo every other day and sometimes even the 3rd day to stretch my color and not strip the oils from my hair. Working at home most of the time affords me that choice. I have been using the Luxury Shampoo for 2 weeks or so and I am really loving the soft texture and the fullness I am getting. Having a lot of volume in my hair is something I really need and enjoy and this gives me both. Plus the shine I am seeing come through is awesome as well!
* This post contains affiliate links. If you make a purchase, we may or may not receive a small commission which helps to support this site. Thank you!
I only use a Conditioner every once in a great while, usually after I highlight my hair. This Luxury Conditioner was just right for me to use once in a while. It has a soft scent that is not over powering plus I love that it is not heavy or overly greasy. I hate my hair being loaded down with waxy stuff. Ugh! This was a nice conditioner that made my hair feel great after its highlighting treatment!
I love the ENJOY line of products. My husband does too! It the the only line that he uses on his hair and it always looks great. Stop by their site and find a salon or store locator for your area and give these great products a try. I think you will be pleased!
Disclaimer: Chris has received no compensation for this post but did receive free product for purpose of review. Please read our Official Rules before entering this giveaway. We must receive all entries by the end date of the contest and the odds of winning are determined by the number of entries received. No purchase necessary to enter. Two Classy Chics is not responsible for prize fulfillment. All Content on this site is Copyright of the Two Classy Chics All Rights Reserved