For those of you that love to read Christian based novels, I have a wonderful review for you today. This is a new release in the women's fiction genre that I was sent and it combines a touch of mystery, intrigue and a bit of romance too. Set in 1906, it is one that you will definitely want to check out.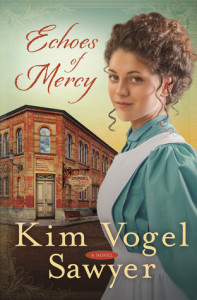 Echoes of Mercy by Kim Vogel Sawyer
Publisher: WaterBrook Press (January 21, 2014)
ISBN-13: 978-0307731272
Synopsis:
A story that examines a 1906 chocolate factory and a young woman's passion to end child labor.
When a suspicious accident occurs at the famous Dinsmore Chocolate Factory in Sinclair, Kansas, Caroline Lang goes undercover as a factory worker to investigate the circumstances surrounding the event and how the factory treats its youngest employees—the child workers. Caroline's fervent faith, her difficult childhood, and compassionate heart drove her to her job as an investigator for the Labor Commission and she is compelled to see children freed from such heavy adult responsibilities, to allow them to pursue an education.
Oliver Dinsmore, heir to the Dinsmore candy dynasty, has his own investigation to conduct. Posing as a common worker known as "Ollie Moore," he aims to find out all he can about the family business before he takes over for his father. Caroline and Oliver become fast friends, but tension mounts when the two find themselves at odds about the roles of child workers. Hiding their identities becomes even more difficult when fate brings them together over three children in desperate need. When all is revealed, will the truth destroy the love starting to grow between them?
My Thoughts
The last novel I read by this author was a wonderful and compelling story and I hoped as soon as I received this book, it would not disappoint. I am happy to say I was not proved wrong.
Echoes of Mercy is a beautifully crafted novel that combines so many different factors in the storyline that you cannot help be be enthralled all the way through it. I love the added spark of intrigue with Caroline's job as an undercover agent. The addition of a second undercover person in the story added a bit of tension and hope for a budding romance.
This book tells a story that is set in history and the story weaves in the effects of child labor issues and the hardships of the time. The author creates believable characters and a story that keeps the pages turning. While I am a fast reader, I found myself slowing down while reading this book because I wanted to get every single word she wrote. That does not happen to me very often! For me, that is a sign of a really great novel!
What I love the most about Sawyer's writing is the underlying work she does to make sure that the characters are believers in God and if they are not, then within the story, she is teaching about God and Jesus. She never forgets her mission within the story and weaves it in without preaching. She is definitely a wordsmith that crafts her books well.
For a beautifully written story that will not disappoint, you will love this book. Put this on your must have reading list today!

Disclaimer: Chris Carroll has personally reviewed the product listed above. She has not received any monetary compensation for her review but did receive a free product to try out so she could evaluate and use it for her review. Her thoughts & opinions in this review are unbiased & honest and your opinions may differ.