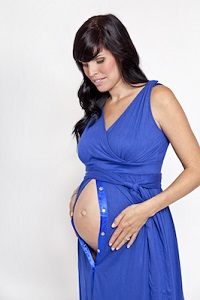 My daughter will be 5 years old in May and it is amazing how many new maternity and baby items have hit the market in the past 5-6 years. When I was pregnant with Gia it was hard to find multi-functional maternity and post-partum clothing.
Dressed to Deliver has come up with a great item that you can wear during those last few weeks of your pregnancy and wear for many months afterwards. Dressed to Deliver are 3-in-1 gowns that can be worn as a maternity dress, labor and delivery gown, and after the birth of your baby as a nursing gown.
Dressed to Deliver offers women more features and uses than uncomfortable, ugly hospital gowns. These stylish, pretty dresses provide easy access for hospital staff to conduct baby monitoring, administer IV's and epidurals, c-section incision inspections, and provide ultrasound access. Women can freely walk the hospital hallways without the fear of being exposed and when family drops by to take pictures, Dressed to Deliver allows a woman to stay comfortable, concealed, and still look great.
These fabulous 3-in-1 gowns are sold in a variety of different colors and you can find them in sizes small through 3-XL. The company also makes black nursing wraps that go perfectly with the gowns as an add-on purchase.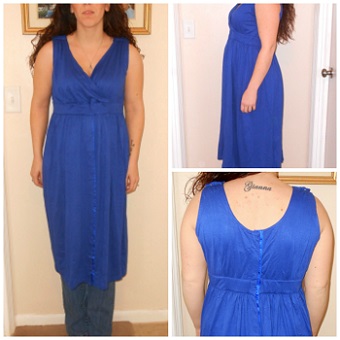 The 3-in-1 birthing gown has 3 metal snaps at each shoulder, this is so you can get in & out of the gown easily and doctors & nurses will have easy access too. It has a cross-over front neckline with an empire waist which completely unsnaps so that you can be hooked up to a baby monitor and so the doctor can examine you. The entire back of the gown completely snaps up so there is nothing gaping or showing through back there. The fabrication is a medium-weight, not that thin, cheapo material that hospital gowns are made out of.
I really love this idea and it is really unique. When I get later into my pregnancy I will definitely be wearing it as a dress, then as a delivery gown while in the hospital and a nursing gown once I return home. The fabric is really soft and feels great against your skin and it is completely machine wash & dry. Gotta love that!
This item would make a great "new mom-to-be" gift for sure and it is affordable at only $69.99. You can see all of the colors it comes in on their site and you can learn more about the product too. Great item!

Disclaimer: Jenelle Hill has personally reviewed the product listed above. Jenelle has not received any monetary compensation for her review. Jenelle did receive a free product to try out so she could evaluate and use it for her review. Her thoughts & opinions in this review are unbiased & honest and your opinions may differ. Two Classy Chics is not responsible for delivery of any giveaway items won from this blog.