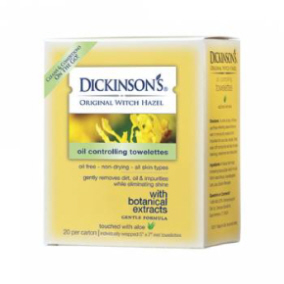 Dickinson's Original Witch Hazel Oil Controlling Towelettes pack the natural goodness of Dickinson's Original Witch Hazel in a portable package. Use it during the day for a touch-up, in the morning, or at night before bed.
I fell in love with Dickinson's Witch Hazel in high school. I cannot remember much about my first exposure to it, but I know Seventeen Magazine had something to do with it. I wanted skin like the pretty, fresh-faced models and either an ad or feature explained that Dickinson's would give it to me. I used it for years and loved how it made my skin feel. It didn't get as oily during the day and to an oily-skinned, acne-riddled teen, that was a blessing.
As time went by, I reached for other skincare options and my love of Witch Hazel faded. Makeup removing towelettes became a standard purchase and remained so for years. I liked the convenience of a product that did not require extra laundry.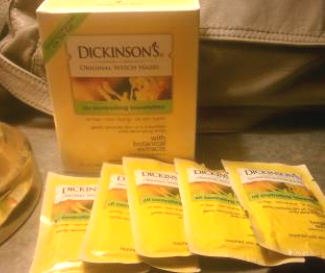 These days I'm going back to natural, simpler options and Witch Hazel is back in my home inventory. We use it to soothe tired or irritated skin and are rarely without it. And, just like in my younger years, I have towelettes at the ready, at home and on the go. Dickinson's Original Oil-Controlling Towelettes pack all of Dickinson's Witch Hazel goodness into individually wrapped portable packages.
Dickinson's calls itself "pure goodness." The minimal list of ingredients is proof. Natural Witch Hazel Extract and Aloe Juice are a magical combination that works magic on my and my family's skin. These towelettes measure a nice 5×7 inches and are pretty strong. Each foil pouch is leak-resistant, even when bashed by a set of keys and a pen. Packing a few in my purse ensure I'm ready to whisk the oil from my face or ease the irritation from bug bites in spring and summer.
Dickinson's Original Witch Hazel and Oil Controlling Towelettes work for all skin types, even sensitive or acne-prone skin. And unlike some of the other towelettes on the market, Dickinson's is affordable and easily accessible. Pick up a box of 20 for around $6.99 at Walgreens and other stores.
* This post contains affiliate links. If you make a purchase, we may or may not receive a small commission which helps to support this site. Thank you!
Disclaimer: Sherrie has personally reviewed the product listed above. Sherrie has not received any monetary compensation for her review. Sherrie did receive a free product to try out so she could evaluate and use it for her review. Her thoughts & opinions in this review are unbiased & honest and your opinions may differ. Two Classy Chics is not responsible for delivery of any giveaway items won from this blog. We are not responsible for injury or mis-use of any products won from the Two Classy Chics Blog. Please read our Terms of Service & Disclaimer Policy before entering our giveaways. This giveaway is not affiliated with Facebook or Google+ in any way. Thanks!