My guys have two very different skin types so that means anything I get for them to use has to be different formulas. I think the only thing they use that is the same is their antiperspirant. Luckily my son is still young enough that he does not have to worry too much about his skin care. Other than a few minor break outs here and there, he has lovely skin. Hubby, on the other hand, has super dry skin that is sensitive to many products. Finding the right products for him is difficult. They were happy to find that there is a line of products for men that has items that both of them can use and we were asked to try some of it out.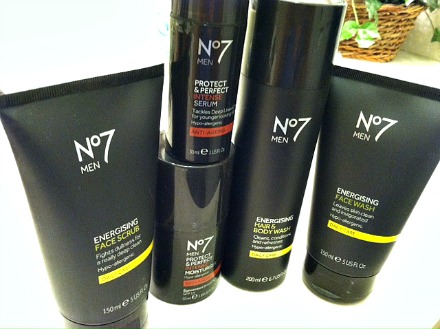 Boots is a large body and skin care company that has nine different brands under their umbrella. One of their lines is the Boots No7 brand that is offered for both women and men. You may have seen them in such stores as Target and Walgreens. The Boots No7 men's line is relatively new and my guys were excited to check it out!
They were sent 5 different items:
* No7 Men Protect & Perfect Intense Serum Anti-Aging
* No7 Men Protect & Perfect Intense Moisturizer SPF 15
* No7 Men Energising Face Wash
* No7 Men Energising Face Scrub
* No7 Men Energising Hair & Body Wash
Knowing my guys, I split these up and had my son check out the Hair & Body wash, the Face Scrub and Face Wash. Being just 18, he knows how important it is to keep his face clean so his break outs are kept to a minimum. The very first time he used the Face Wash, he came running out and had me feel his face. It was baby soft and so touchable! Just like he was a little kid again! Mom was impressed and I think he was too! This is a keeper!
When he used the Face Scrub for the first time, he had the same reaction. I cannot believe how healthy looking and bright his skin looked. I taught him how to use it and how often so he does not strip his skin and he has this in his shower so it is right there when he needs it. Nice scent and nice product!
The Hair & Body Wash my son also used and while he likes the product for his body, he does not like it on his hair. As a swimmer, his hair is super dry and he has to use special shampoos to keep it manageable and this was a bit too drying for his hair. The scent is great and he really enjoyed that.
My hubby tried out the Face Wash as well since my son loved it so much. He, too, had such soft skin after using it. It felt so nice. I need to buy him his own bottle to use since my son is hogging it. HA!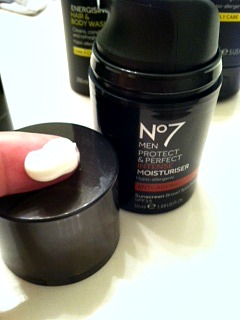 Hubby also checked out the Anti-Aging Serum and the Moisturizer. Since his skin is super dry in places and not so much in other, I had him just try a bit of the serum on the dry areas to start. I did not want to freak out his skin as he had never used anything like this before. Starting small was a good call. He liked that it absorbed well and seemed to calm down his dry spots. This is a thick serum that is easy to use and has a clean scent. Nothing too over powering.
He followed the serum with the Moisturizer, which he used all over his face. The product is nice and thick and did not irritate his face at all, surprisingly! It absorbed really well and left his face feeling soft. He has been using it every few days and liking the results so far. A lot of his dry spots seem to be clearing up nicely.
Overall, all of these items the guys tried were keepers. I love the prices and while checking out the website, I found so many other item I need to try! I am definitely grabbing the Post Shave Balm and Shave Gel for these guys, plus there are a bunch of beauty items I know I need! Awesome site with tons of great buys!
Now you can have the men in your house try this product line too!
* This post contains affiliate links. If you make a purchase, we may or may not receive a small commission which helps to support this site. Thank you!
Disclaimer: Chris has received no compensation for this post but did receive free product for purpose of review. Please read our Official Rules before entering this giveaway. We must receive all entries by the end date of the contest and the odds of winning are determined by the number of entries received. No purchase necessary to enter. Two Classy Chics is not responsible for prize fulfillment.