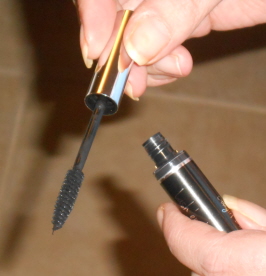 Mascara is one beauty product that I just can't live without. There is not a day that goes by that I don't use a little mascara and if I am going out for the evening…well, then I use a lot!
As I have gotten older, my lashes have gotten thinner, sparser and shorter. I have to use a good mascara or my lashes just won't be seen.
Today I wanted to share some great mascara application tips with all of you! After all, we all want to look beautiful and classy when we go out!
1. Choose the RIGHT mascara for the job! If you are looking for fuller lashes, choose a volumizing one, if you are looking for longer lashes, choose a lengthener and if you need one that doesn't sweat off or wash-off easily, go for waterproof.
2. Experiment with Colors! You can stick with the classic black or dark brown but step out of the box and play with some colors! You can apply black or brown mascara and then add a light coat of a color (or) use your classic black/brown on 3/4 of your lashes and then just apply a color to the lash tips.
3. For the best look when it comes to your lashes apply two coats! Apply the first coat, wait several minutes for it to dry and then apply your second coat. You should not need five coats of mascara…if you do, you are using the wrong product!
4. When it comes time to remove your eye makeup it is best to use an eye makeup remover and not an overall face cleanser. You will have better and quicker results by using a product made specifically for our delicate eye area.
* This post contains affiliate links. If you make a purchase, we may or may not receive a small commission which helps to support this site. Thank you!
5. Beauty experts vary when it comes to tossing out and replacing your old mascara. Some say to do it every 6 weeks and others say every 3 months. If you recently had an eye infection or eye irritation, toss it immediately and use a new one…regardless of how old your product is.
Every classy chic has their own mascara preferences and how they like to use it. These 5 tips are just some of your basic ones. We would love to hear some tips from our blog readers. Feel free to leave them below!