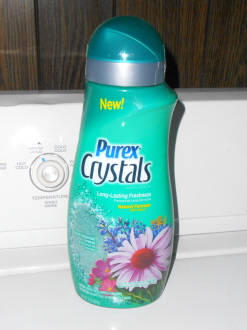 Keeping a nice & clean home is something I take great pride in as a home owner and a wife. Every day I am cleaning or organizing something and I am always looking for new products to make my cleaning life a little bit easier.
One of the areas that I am a fanatic about is having clean and fresh smelling laundry. I like my whites to look white, my colors to be bright and I don't like seeing any darks, fading. In addition, when my laundry comes out of the washer & dryer, it better smell clean!
Let me introduce you to the Purex Crystals in a brand new fragrance called Fresh Mountain Breeze. Now you can infuse your laundry with long-lasting freshness that will last for weeks, not days!
The Purex Crystals is a natural formula that is safe for your family and the environment. It smells like you are standing in the middle of the mountains, the breeze is going and you catch a light whiff of some wildflowers growing nearby. The fragrance brings back a lot of fond vacation memories for me of when hubby & I used to travel up to the Pocono Mountains.
Each bottle comes with a removable cap that is marked with small, medium and large measuring lines so you know how many Purex Crystals to pour into the cap, per the size of your laundry load. You do not want to put this product in your liquid fabric softener dispenser and it should be tossed right in with your laundry.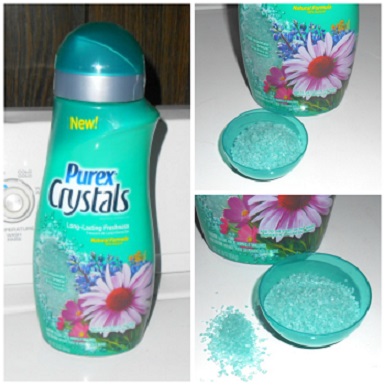 After receiving the product I immediately started using it. We have well water here at our home which is very hard which I am not fond of. I tossed in our household laundry with some liquid Purex detergent and added the Purex Crystals. It smelled so good just being poured from the bottle.
Once it was done washing, I took it out and tossed it all into my dryer. I did NOT use any type of "dryer" products like dryer sheets, etc. Just tossed them in and walked away. An hour later I came back, removed them and started folding up my laundry. Oh my gosh, everything smelled so good, felt super soft and I had no static cling!
Now for the real test…I put my towels and linens away into our linen closet. Every time I got into that closet I could smell that fragrance and it was heavenly! As we used up our towels and linens…the softness and fragrance remained. Nice!
I am really tickled pink (or should I say tickled GREEN) about this new fragrance from Purex Crystals!!! What a great laundry product that is definitely a "pick-me-up" at the grocery store! It is on my shopping list and I will be getting more!
Sweepstakes: To celebrate the release of the New Purex Crystals Fresh Mountain Breeze, Purex is hosting a Sweepstakes! One grand prize winner will receive $500 while 100 second place winners will receive a coupon for a free Purex Crystals Fresh Mountain Breeze! Head on over to their web site to grab the info and to enter today!
Giveaway: One lucky winner is going to win a product coupon to go out to their local store to grab a FREE bottle of the new Purex Crystals in the Fresh Mountain Breeze scent.
CONTEST CLOSED
Giveaway Details: This giveaway is open to residents of the US ONLY age 18 and over. Please read our Terms of Service & Disclaimer Policy before entering. This giveaway will close on February 17th, 2014 at 11:59 pm EST time. No purchase necessary to enter or win.

Disclaimer: Shelly Hill has personally reviewed the product listed above. Shelly has not received any monetary compensation for her review. Shelly did receive a free product to try out so she could evaluate and use it for her review. Her thoughts & opinions in this review are unbiased & honest and your opinions may differ. Two Classy Chics is not responsible for delivery of any giveaway items won from this blog. We are not responsible for injury or mis-use of any products won from the Two Classy Chics Blog. Please read our Terms of Service & Disclaimer Policy before entering our giveaways. This giveaway is not affiliated with Facebook or Google+ in any way. Thanks!