I love a beautiful home. Let's face it, who doesn't? One of my biggest issues is that I love so many different styles that incorporating them all can be an issue. I have tote boxes full of home decor in my garage that I have traded out for my current "style". One thing I love is antiques and I have them all over the dining and living area in my home so I was thrilled to review a fabulous piece that has been renewed for decorative use and fashioned by Madera Home Furniture.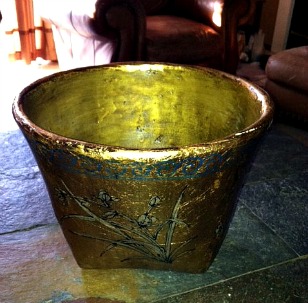 The Gold Mung Bean Basket with Cherry Blossoms is gorgeous! This is a hand-painted basket that was originally used 60 to 80 years ago to gather fruit and vegetables from the farms of rural China. This basket has been given new life and it makes an amazing piece for my living area!
Each of these hand painted baskets are hand-painted in a different color and with a different scene, which makes it truly unique as there are one of a kind. The various colors include blue, green, red, orange and yellow. The different scenes available range from floral to animal scenes or monks performing rituals, in the typical Asian style.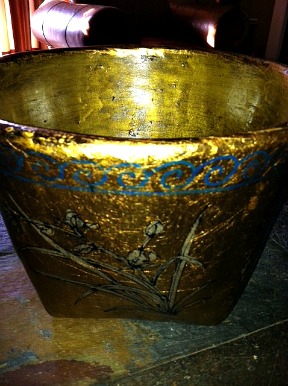 My basket is gold with subtle accents of green and teal. It is the perfect color to blend in with my furniture and other items in my living area. I currently have a plant housed in it as it is just the right size for my small ficus tree but it can certainly be used for other things – or just be happy as it is. The gold catches and reflects light and it looks great, if I must say so myself! I love this art piece.
Disclaimer: Chris has received no compensation for this post but did receive free product for purpose of review. Please read our Official Rules before entering this giveaway. We must receive all entries by the end date of the contest and the odds of winning are determined by the number of entries received. No purchase necessary to enter.