Weekends and evenings when I have some down time is my favorite time to read. It is not everyday that I get to pick up a book, but when I do, it is my special time and I want to make sure that I am reading something that I love. I think that is I why I gravitate to chick lit and women's interest stories the most. They read fast and I don't have to think too much! This book that I was sent to check out fits into all of these categories for a pleasurable, fast, weekend read.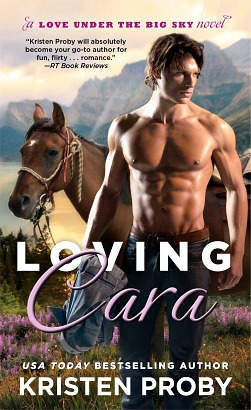 Loving Cara by Kristen Proby
Series: Love Under the Big Sky
Publisher: Pocket Books (January 21, 2014)
ISBN-13: 978-1476759005
The Synopsis
Cara Donovan's summer tutoring job is turning out to be a challenge—and not just because of her troubled twelve-year-old student. It's his uncle Josh who's the real problem. If problem is the word for an irresistibly cocky, muscle-bound rancher with a taste for tight Levi's and shameless flirtation. . . .
Cara is nothing like the wallflower Josh King remembers good-naturedly teasing in high school. This Cara is gorgeous, confident, fun. From the moment the fiery teacher steps foot on his family's Lazy K Ranch, the stubborn playboy is determined to corral her. So what happens when his luscious lover takes over the reins?
The first in a steamy trilogy, Kristen Proby's enthralling novel is filled to the brim with one hardworking family's triumphs and challenges, all the wild adventure of the modern West, and a whole lot of titillating fun.

My Thoughts
I can tell when a book is going to be good within the first chapter. Sometimes even the first few pages, really. Loving Cara is a light hearted, fun read that has a solid story that flows well and is interesting all around. The Author created Cara to be a strong woman with the normal insecurities that we all tend to have, especially when it comes to men.
What I loved the best about this book is that the lead male, Josh, is a tender, loving man that adores Cara. I love how he spoke and treated her. OF course, it does not hurt that he is a hot cowboy with descriptions that are sure to set your heart pounding.
The other cast of characters in this book open the doors to the next in the series. The group includes Josh's twin brother and best friend as well as Cara's best friend. The relationships are fun and they are all protective of each other. I was left wishing I had relationships like these folks do.
This book flows really well and is loaded with adult situations, just so you know. I think I finished it in about 3 hours one evening and was left wanting more. I really enjoyed the writing style and the storyline overall. I cannot wait until the next installation in the series comes out. The author is a strong writer and one to watch for more books you will enjoy reading.
Disclaimer: Chris  has received no compensation for this post but did receive free product for purpose of review. Please read our Official Rules before entering this giveaway. We must receive all entries by the end date of the contest and the odds of winning are determined by the number of entries received. No purchase necessary to enter. Two Classy Chics is not responsible for prize fulfillment. All Content on this site is Copyright of the Two Classy Chics All Rights Reserved