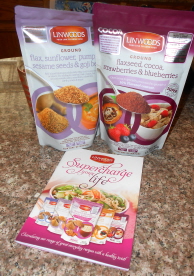 We are now into the new year and many of us have made New Year's Resolutions to lose weight and to eat healthier, myself included. Cutting down on the bad fat, synthetic flavorings, nasty food coloring, preservatives, etc. are all on my list this year. One of the things I enjoy doing when I am home and stuck indoors…is I love to bake!
Linwoods makes a line of health foods that are easy to incorporate into your diet and can help improve digestion, oxygen transport, boost your vitamin D and provide you with valuable antioxidants (depending on the product you are using).
How many of you are familiar with flaxseeds? The benefits of adding flaxseeds in your meal can provide a good source of iron, omega 3, vitamin B12, and more. Hemp is a superfood that offers protein and omega nutrients. Their finest quality ingredients are found in the following six flavorful blends from Linwoods:
– Ground Organic Flaxseed
– Ground Flaxseed, Almonds, Brazil Nuts, Walnuts, & CoQ10
– Ground Flax, Sunflower, Pumpkin, Sesame Seeds & Goji Berries
– Ground Flaxseed, Cocoa, Strawberries, & Blueberries
– Ground Flaxseed & Goji Berries
– Shelled Hemp
For my review I received a bag of the Ground Flaxseed, Cocoa, Strawberries & Blueberries and a bag of the Ground Flax, Sunflower, Pumpkin, Sesame Seeds & Goji Berries to try out for all of you.
You can add these products into your oatmeal, cereal, salad, yogurt or any meal at any time of the day. For myself, I decided to make the Breakfast Muffins from Linwoods (recipe below) using the Flaxseed, Cocoa, Strawberries & Blueberries. Once they were done…the family tasted them and loved them. You couldn't tell that these were HEALTHY muffins! They were flavorful, moist and had a nice texture to them.
For the Flax, Sunflower, Pumpkin, Sesame Seeds & Goji Berries we have been adding 4 teaspoonfuls into our morning oatmeal to add extra flavor & goodness to that. Yummy! We also will stir it into our fruit smoothies when we make those.
Both varieties that they sent me for the review are fabulous! Adding them my teaspoonfuls to your recipes & food doesn't make any changes in the texture or taste at all. I love it when I can add healthy things like this to foods I am preparing and my family is completely clueless on it! LOL
Linwoods Health Foods Breakfast Muffins Recipe
Prep time:
Cook time:
Total time:
This recipe is courtesy of Linwoods Health Foods. Try adding in grated carrot, chopped walnuts, dates, chopped apples and/or cinnamon for an exciting twist.
Ingredients
1 cup granulated sugar
2 cups self-raising flour
1½ Tablespoons Linwoods Flaxseed Cocoa & Berries
1 teaspoon of baking powder
1 cup milk
1 cup butter (unsalted)
2 eggs (beaten)
Instructions
Preheat oven to 350 degrees F. Mix the flour, baking powder, Linwoods Flaxseed Cocoa & Berries and granulated sugar together. Melt the butter and heat the milk, mix together and allow to cool. Add the milk & butter to the flour mixture with the beaten eggs. Combine the mixture, spoon into muffin cups and bake for 20 minutes or until done.
Head on over to Linwoods Health Foods and take a look around. You can learn more about the company and the products that they have to offer. Great Stuff!
* This post contains affiliate links. If you make a purchase, we may or may not receive a small commission which helps to support this site. Thank you!

Disclaimer: Shelly has personally reviewed the product listed above. Shelly has not received any monetary compensation for her review. Shelly did receive a free product to try out so she could evaluate and use it for her review. Her thoughts & opinions in this review are unbiased & honest and your opinions may differ. Two Classy Chics is not responsible for delivery of any giveaway items won from this blog. We are not responsible for injury or mis-use of any products won from the Two Classy Chics Blog. Please read our Terms of Service & Disclaimer Policy before entering our giveaways. This giveaway is not affiliated with Facebook or Google+ in any way. Thanks!