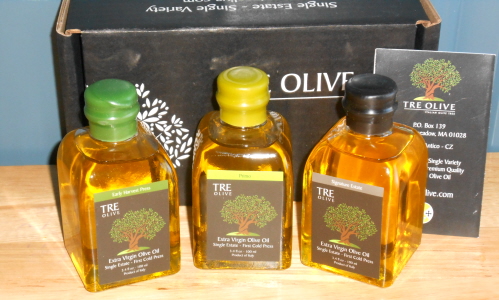 Tre Olive is an olive oil company that has been in business since 1934. The company is family owned & operated and have been growing olives and making extra-virgin olive oil in the Calabria region of southern Italy for several generations.
In 1970 several family members moved to the United States to live the American dream. Then in 2009, three of those cousins got together and decided to bring the olive oil products over from Italy and sell them to us here in the United States. There is no middle-man and U.S. consumers can now get authentic Italian grown & made olive oil products in their own homes.
When you shop at Tre Olive you can adopt an olive tree, purchase different varieties of extra-virgin olive oil, purchase handmade soaps made from olive oil or select some great olive oil theme'd gifts.
I was sent a complimentary gift set containing 3 glass bottles of extra-virgin olive oil to review for you. This set includes: Signature Estate – First Cold Press Olive Oil, Single Estate – First Cold Press Primo Olive Oil and Single Estate – First Cold Press Early Harvest Press Olive Oil. They come nicely gift boxed with a brochure that tells you more about them.
Primo: Before the olives begin to ripen, they press for their Primo – creating a green, robust & peppery oil.
Early Harvest Press: They select olives for their early harvest press when they begin to ripen. Slightly sharp with a golden-green color.
Signature Estate: Their signature estate is made from riper olives, which creates a golden oil with a smooth, buttery flavor.
My Thoughts: I use a lot of olive oil here in my home since I love to cook. I love to use it to make various poultry, fish and beef marinades and I love to use olive oil to make homemade salad dressings. When it comes to cooking a great meal for your family, you ALWAYS got to use top-quality extra-virgin olive oil. There ya go, a tip fro me! You want to avoid the cheap junk in your local grocery store for sure!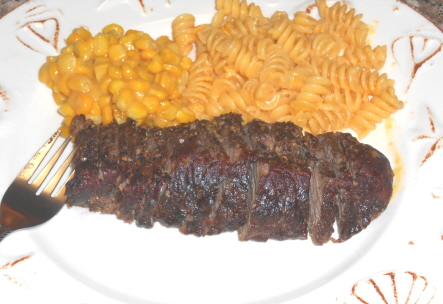 A few weeks ago I was making some beef steaks for dinner one night and decided to season them up with the PRIMO olive oil. I used a tablespoon of the olive oil mixed it with a little salt, pepper and steak seasoning and marinaded our steaks for about 30 minutes in it. We then baked them in the oven for about 40 minutes or until they were done. Let me tell you…they were delicious! I really didn't do anything fancy with them but using the right olive oil always makes a big difference. They were flavorful with a slight peppery taste to them and were very moist & chewy.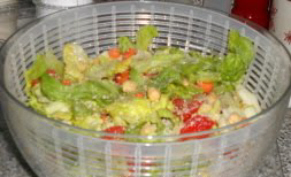 Just last weekend I used the Signature Estate Olive Oil and made some homemade salad dressing. We were having a dinner party and I never use or serve bottled dressings…ever! For those of you who never tried making your own, you really should! It only requires a few ingredients, whip it together, chill for about 40 minutes and it is done! A fresh salad always tastes 100% better when you make your own salad dressing!
Once I get the first two bottles used up, I will open up and use that third one. I am sure it is just as delicious as the first two. I love high-quality Italian olive oil and that is exactly what you get from this company. Other brands will sell you watered down stuff or ones that are mixed with a variety of other oils. You get the pure Italian olive oil with Tre Olive.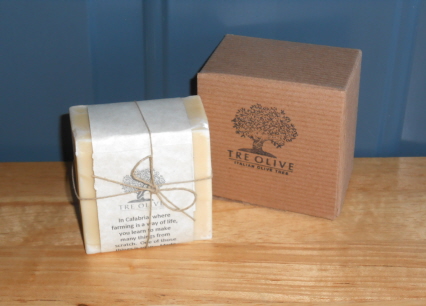 In addition to the oils, I also received a bar of the Extra-Virgin Olive Oil & Lavender Soap to try out for all of you. If you have been following our blog, you know I am "all over" quality-made soaps! This bar of soap is one of the best I have ever used…if NOT the best ever! As soon as you touch it, you know its different! It is soft and silky…smooth as a rock and just glides against your skin. I have sensitive & dry skin and Wow…this soap completely cleared up my dry skin in less than a week (using it twice a day to bathe/shower). It has a light lavender fragrance to it and smells absolutely heavenly. Your skin will THANK YOU for using it!
I am really impressed with the Tre Olive company and their high-quality, affordable products. If you have tried similar products in the past, it is time for you to step up and now try the best!
Giveaway: One lucky winner is going to win a set of 3 bottles of Extra-Virgin Olive Oil just like the set I got to review. Value $29.99 Plus a bar of that fabulous olive oil soap!
CONTEST CLOSED
Giveaway Details: This giveaway is open to residents of the US ONLY age 18 and over. Please read our Terms of Service & Disclaimer Policy before entering. This giveaway will close on February 16th, 2014 at 11:59 pm EST time. No purchase necessary to enter or win.

Disclaimer: Shelly Hill has personally reviewed the product listed above. Shelly has not received any monetary compensation for her review. Shelly did receive a free product to try out so she could evaluate and use it for her review. Her thoughts & opinions in this review are unbiased & honest and your opinions may differ. Two Classy Chics is not responsible for delivery of any giveaway items won from this blog. We are not responsible for injury or mis-use of any products won from the Two Classy Chics Blog. Please read our Terms of Service & Disclaimer Policy before entering our giveaways. This giveaway is not affiliated with Facebook or Google+ in any way. Thanks!