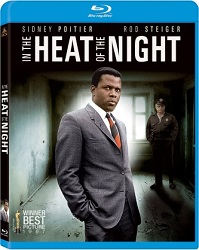 Many of us are stuck indoors during this cold winter weather and many of us are looking for some new entertainment. If you are one of those people, you may want to consider picking up this new DVD release!
In the Heat of the Night is being released on Blu-ray DVD starting on January 14th, 2014. Here is some additional information about the official release which is only a few short days away!
In The Heat Of The Night – While traveling in the Deep South, Virgil Tibbs, a black Philadelphia detective, becomes embroiled in the murder investigation of a prominent businessman when he is first accused of the crime and then asked to solve it in spite of the efforts of the bigoted town sheriff. They're forced to work together in a desperate race against time to discover the shocking truth!
Special Features:
* Commentary with Norman Jewison, Lee Grant, Rod Steiger and Haskell Wexler
* Turning Up the Heat: Movie-Making In the 60's
* The Slap Heard Around The World
* Quincy Jones: Breaking New Sound
* Theatrical Trailer
About Twentieth Century Fox Home Entertainment – Twentieth Century Fox Home Entertainment is the industry leading worldwide marketing, sales and distribution company for all Fox produced, acquired and third party partner film and television programming. Each year TCFHE expands its award-winning global product portfolio with the introduction of new entertainment content through established and emerging formats including DVD, Blu-ray™ and DigitalHD™. Twentieth Century Fox Home Entertainment is a subsidiary of 21st Century Fox.
Disclosure: Shelly is a member of the Fox Home Entertainment Insiders Club. Shelly was not compensated for this post. She is simply passing along the information to the TCC Blog readers as an "informational use only" blog feature.