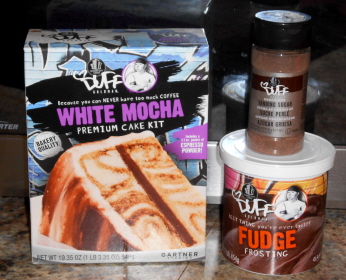 I love to bake and most of the time I bake from scratch. However, there are times that I will use box mixes to help me come up with a delicious creation, especially when I am pressed for time.
Duff Goldman is the star of Food Network's "Ace of Cakes" and has now added a line of premium cake mixes, frosting and decorator products to his gourmet foodie lineup.
Duff's Premium Cake Mixes use low protein, low gluten flour, which makes for a lighter, fluffier cake, with unusual colors and flavors including Zebra, Tie-Dye, Confetti, Peanut Butter+Chocolate, White Mocha, and Minty-Chip Chocolate.
Recently I was sent three products to try out for all of you. I received the White Mocha Premium Cake Kit, a tub of the Fudge Frosting and a bottle of the Chocolate Sanding Sugar.
The White Mocha Premium Cake Kit includes a 1.1 oz. packet of Espresso Powder which really gives your cake a nice, rich flavor! This is a baker quality kit and all I had to add to it was water, eggs and vegetable oil. It took me a few quick minutes to prepare and about 25 minutes of baking time in my oven. You can make a round layer cake, a sheet cake or use it to make 24-30 cupcakes.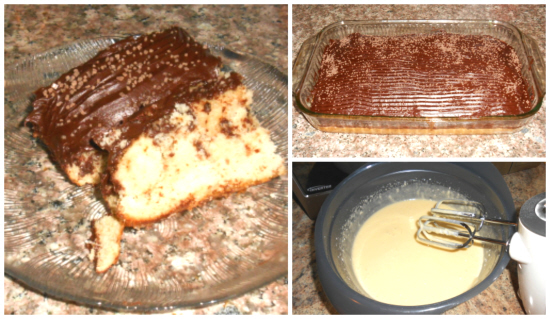 The Fudge Frosting is ready-to-use and comes in a traditional plastic frosting container. As soon as I popped the top off of the frosting container I could smell chocolate fudge and I knew this frosting was going to be good! It was really easy to spread onto my cake and I used the entire container!
The Chocolate Sanding Sugar is really cool. It comes in a  "spice style" shaker bottle and is a "fine" dusting sugar. You can dust this onto your cakes, cupcakes, breads, muffins or cookies with ease. I dusted the top of my cake with it, right on top of the yummy frosting!
I served this cake to some guests last week that we had over for a little dinner party. Everyone raved about how delicious it was. The cake had a nice fluffy texture to it, rich mocha flavor, very moist and we tore up that cake in rapid fashion! Oh my gosh, I have never tasted a better cake that came from a box mix!
* This post contains affiliate links. If you make a purchase, we may or may not receive a small commission which helps to support this site. Thank you!

Disclaimer: Shelly has personally reviewed the product listed above. Shelly has not received any monetary compensation for her review. Shelly did receive a free product to try out so she could evaluate and use it for her review. Her thoughts & opinions in this review are unbiased & honest and your opinions may differ. Two Classy Chics is not responsible for delivery of any giveaway items won from this blog. We are not responsible for injury or mis-use of any products won from the Two Classy Chics Blog. Please read our Terms of Service & Disclaimer Policy before entering our giveaways. This giveaway is not affiliated with Facebook or Google+ in any way. Thanks!