We all have some tough areas in our home that we try and keep clean. One of those areas in my house in my son's bathroom. He is responsible for keeping it clean although we know how well that works. So I often find myself going back over his "cleaning" for a deeper clean and having a tough cleaning product to help me is a lifesaver. I was happy to check out the products made by Clutter Cleaner to help me out.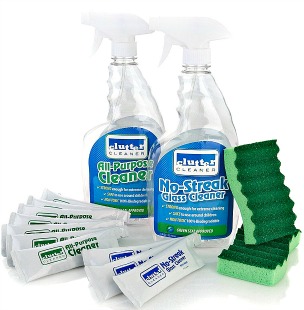 Clutter Cleaner Cleaning System Was Designed By Matt Paxton From "Hoarders" and it is a all natural organic household cleaning product that is certified Green and Environmentally Friendly. This is Non Toxic and safe to use around kids and pets too.
Clutter Cleaner Organic Cleaning Products Pack consists of:
• 2 Empty 32 fl. oz. plastic bottles with spray nozzles
• (7) 1 oz. All-Purpose Cleaner concentrate packs
• (3) 1 oz. No-Streak Glass Cleaner concentrate packs
• 2 Sponges formulated to inhibit the growth of odor-producing bacteria.
• Enough Product to clean for a whole year!
All-Purpose Cleaner is great for all surfaces, including the kitchen and bathroom. The No-Streak Glass Cleaner doesn't leave streaks or residue on glass, windows or stainless steel. Plus the heavy duty dual-sided cleaning sponges are super strong. And I love that these are all made in USA.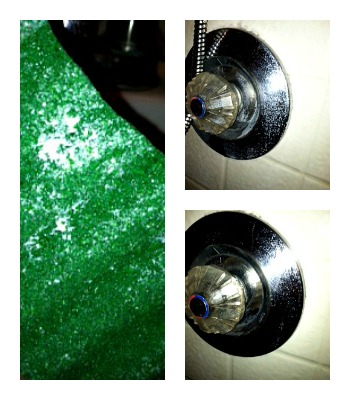 This is super simple to use too. Pour the packet into the bottle and fill with water. Then just spray it on, let sit for 30 Seconds to a minute and then wipe it clean. I was really amazed at the way it cut through tough soap scum. We have really hard water and the soap is horrible to get off the shower inserts. I hate those things so much! The plastic just sucks up the soap I think. But I liberally sprayed my son's shower and let it sit for a minute and the soap came right off. Check out that sponge!
My shower was a bit tougher nut to crack as it has discoloration from years of scrubbing powder. I did make a lot of progress on the soap runoff but I think it is time for a new shower. I have scrubbed off the plastic coating on many parts of this old thing but I think it did pretty great on the faucet handle. The hard water spots pretty much disappeared with just one application. I have never had a product do that before.
The Glass Cleaner is fabulous too! It does a wonderful job cleaning and shining windows, mirrors and my stainless steel. My stove just gleams.
I am really pleased with the Clutter Cleaner system. My Mother in Law is visiting and she was amazed too! She kept finding things to clean and I let her! LOL
The Giveaway
Two lucky winners are going to receive a cleaning system too! Here is how to enter!
CONTEST CLOSED
Giveaway Details: This giveaway is open to US Residents age 18 or over. You must complete the Mandatory Entry to be eligible. This giveaway will close on January 27, 2014 at 11:59pm EST Time.
Disclaimer: Chris Carroll has received no compensation for this post but did receive free product for purpose of review. Please read our Official Rules before entering this giveaway. We must receive all entries by the end date of the contest and the odds of winning are determined by the number of entries received. No purchase necessary to enter. All Content on this site is Copyright of the Two Classy Chics All Rights Reserved