Today I would like to introduce you to the gourmet food company called Sunrise Specialty Foods based out of the great state Pennsylvania, my home state! The company has been in business for over 20+ years and offers nationwide shipping and they deliver close to 500 homes in the Pittsburgh, PA. area.
The company offers over 100 premium quality food items such as: USDA Prime Beef, Chemical-Free Wild Caught Seafood, Bison, Elk, Free Range Chicken and more! Every item is individually vacuum packed, flash frozen and delivered to your front door. These are all high-quality food products, that just can't be found in your local neighborhood grocery store. The company offers free shipping on all orders over $200.00, so fill up that freezer and save! Everything comes nicely shipped in a cooler with lots of dry ice to keep them frozen.
Over the next several weeks I will be reviewing several of their food items here on our Two Classy Chics blog and also on our sister Shakin 'N Bakin Foodie Blog. I think you will love all of the food selections and I will be sharing some really easy recipes to go along with them.
Today we are reviewing the delicious Boneless Chicken Breast Cutlets from Sunrise Specialty Foods. This is free range and vegetarian fed chicken. They assure you that it is antibiotic and chemical free poultry. In my honest opinion, the best poultry that you can buy for you and your family.
It is sold in a box of twelve 6 oz. chicken breast cutlets or in a box of six 6 oz. chicken breast cutlets. Each cutlet will come individually vacuum packed so you can easily just thaw out the amount of cutlets that you need. In addition, your poultry doesn't get freezer burned. I love that!!!
These chickens were golden corn-fed! They then completely clean the meat, trim and individually pack it for you. There are no added chemicals or solutions. Being air chilled and with less than 1% water weight,it is a healthy choice.
Hubby and I decided to try out a new simple recipe and it is called Margarita Chicken Breasts. You will want to thaw out your chicken in the refrigerator (never at room temperature). Place thawed chicken breasts in a large bowl and then add 1 cup of liquid Margarita drink mix (the no alcohol version). Cover the bowl and place into the refrigerator for 4 to 6 hours to allow it to marinate. Remove chicken breasts from the bowl and season them up with some salt and ground black pepper. Place them in a baking dish and bake in a 350 degree oven for approximately 30 to 35 minutes or until done. Remove and serve immediately. You can also toss them onto the grill for 17 to 18 minutes or until done.
We sat down to eat our dinner and we LOVED it! The chicken didn't have any skin, fat or any other type of nastiness on it. It was beautifully lean and trim. It was moist and flavorful. I love that we didn't need a knife to cut it at all. You could definitely tell that this was a better quality piece of chicken than what you purchase in your local grocery store. Plus, I love that it is free-range chicken & vegetarian fed with no drugs or chemicals. Healthier choice for you and your family that you can easily enjoy! A big 2-thumbs up from us!
Reader's Coupon Code: Place any size order and get either 2 FREE Jumbo Lump Crab Cakes or 4 FREE Pecan Crusted Tilapia. In the comment section of the order form you will want to put one of these two coupon codes: Classy/Cakes or Classy/Pecan to get it! Yay! You will love them!!! This coupon expires 06-30-2014.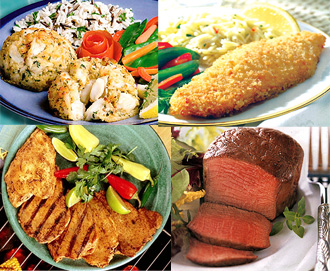 Giveaway: One lucky winner is going to win the "Sensational Favorites" pack from Sunrise Specialty Foods!  It includes: 4-Jumbo Lump Crab Cakes, 4-Garlic Lemon Chicken, 4-Butter Crumb Tilapia and 2-6oz Center Cut Filet Mignons. Value of this prize pack is $89.00.
CONTEST CLOSED
Giveaway Details: This giveaway is open to residents of the US ONLY age 18 and over. Please read our Terms of Service & Disclaimer Policy before entering. This giveaway will close on February 27th, 2014 at 11:59 pm EST time. No purchase necessary to enter or win.

Disclaimer: Shelly Hill has personally reviewed the product listed above. Shelly has not received any monetary compensation for her review. Shelly did receive a free product to try out so she could evaluate and use it for her review. Her thoughts & opinions in this review are unbiased & honest and your opinions may differ. Two Classy Chics is not responsible for delivery of any giveaway items won from this blog. We are not responsible for injury or mis-use of any products won from the Two Classy Chics Blog. Please read our Terms of Service & Disclaimer Policy before entering our giveaways. This giveaway is not affiliated with Facebook or Google+ in any way. Thanks!