I have a hard time swallowing pills. I always have, ever since I can remember. As a kid, my parents always forced medicine and vitamins upon me. Now that I have grown, I tend to avoid taking them altogether. I know it is not good for me! My family makes fun of me for it, but I just cannot help it, it just tends to put me in a panic. When I found out about being able to review alternaVites, I was ecstatic!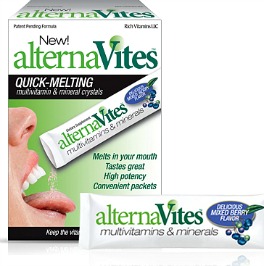 AlternaVites is a full spectrum multivitamin and mineral in a powder form. It is an alternative to capsule vitamins. Of course, it is not the only non-pill option available. There are liquid vitamins, gummies, powdered vitamins and waters. As a person who has a difficulty swallowing pills, I have tried many of these types, but none of them has what AlternaVites does. Most of those products have high amounts of sugar, chemical additives, and/or low in nutrients. AlternaVites is free of artificial colors, preservatives, or flavors—and it contains no peanuts, wheat, milk, egg, soy, or tree nuts.
Also, the non-pill types are not as convenient as alternaVites! alternaVites powder vitamins are in a take-along daily dose packet, whereas the gummies or liquid vitamins are in a not-so-portable jar or bottle. AlternaVites is fast and convenient for busy people. It is easy because of no water needed.
* This post contains affiliate links. If you make a purchase, we may or may not receive a small commission which helps to support this site. Thank you!
I quickly learned that I am not the only one who has a problem with pills! USA Today states that 100 million Americans have difficulty swallowing pills. Even Rich Vitamins LLC president Hallie Rich, says, "I've been looking for something like alternaVites my whole life. Since I couldn't find it, I developed it."
AlternaVites has a tastes great in the mixed berry flavor, and has no after taste. It is really easy to take, I just gradually put the crystals on my tongue, swallowed, and I just repeated until it was empty. It is like eating a 'pixie stick'! Good childhood memory—instead of sugar, it is vitamins!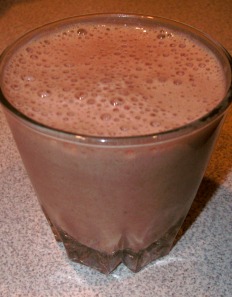 I believe that alternaVites is the solution for all of the excuses for not taking vitamins. I certainly no longer have an excuse… It is the solution to get stubborn kids to take their vitamins also! With alternaVites KIDS, it is possible!
I help take care of my nieces and nephew, I know the hardships of a child not wanting to eat something or take a pill/their vitamins. Created for kids ages four and up, alternaVites KIDS has two yummy flavors that they enjoyed. (Strawberry Bubble Gum and Raspberry Cotton Candy). It wasn't like other vitamins they have tried that were chalky or like gummies that would stick to their teeth.
They liked the idea of being able to put it in pudding or even smoothies. I and my nieces and nephew are very happy for the four different smoothies recipe booklet I received with the vitamins! So I made one of the recipes and included my alternaVites too. This on has banana and chocolate and it was delicious! Plus, alternaVites Kids are also free of sugar, gluten, etc., just like the alternaVites for grown-ups!
"While I had always wanted to develop a children's version, we fast-tracked the process due to the overwhelming requests we've received from moms asking us for one.", says Ms. Rich.
Get your full amount of necessary nutrients with alternaVites. It has 23 essential vitamins and minerals, a wonderful mixed berry flavor, and not only does it taste good, it is good for you and your family!

Disclaimer: Ruby Santiago has personally reviewed the product listed above. She has not received any monetary compensation for her review but did receive a free product to try out so she could evaluate and use it for her review. Her thoughts & opinions in this review are unbiased & honest and your opinions may differ.