** 2013 Holiday Gift Guide Feature **
Sometimes it seems that the only quiet time there is around here is when I am in the shower. My kid is old enough that he doesn't bother me. My hubby is usually sleeping when I shower, so it is just me time! I love to take long, relaxing showers. When I heard about a shower head that can make my quiet time a more relaxing time, I was all for it. I was sent a product to review for you.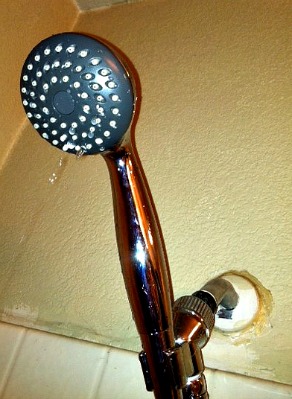 The Rejuvenator Showerhead distinguishes itself from other showerheads and bathroom accessories by using Microbubble Technology™. This technology works by generating millions of tiny microbubbles that naturally cleanse, exfoliate, and rejuvenate the skin, for a healthier look.
What was nice is that this shower head is super simple to put up. It doesn't really take much to install an shower head, but this one installs without tools and everything you need is in the package. It comes in just 3 parts and installs in a jiffy. What is really interesting is that you can leave your regular shower head on and have the Rejuvenator be a secondary head, if you choose. What a great concept!
Showering with the Rejuvenator is a great experience. The water is full of bubbles and feels so refreshing on your skin and hair. I love the feeling. I had stopped using soap on my face due to overly dry skin and the water from the showerhead makes it feel very clean and refreshed. My face feels wonderful getting out. Usually it is so dry and itchy but that has lessened with the softer water. I love the way my hair feels too. It is like having a spa shower in the shower. My skin always feels so dry, especially in colder weather so having an option to lessen that dry itchy feeling with something as simple as a different shower head is nice.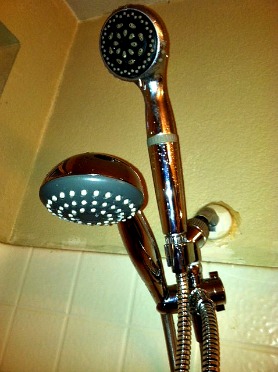 We left the secondary head in our shower. My hubby prefers that one but with the way the Rejuvenator sets up it doesn't matter since we can both have the shower head we prefer with a simple flick on the adapter connection. Plus this Rejuvenator is great with water usage. You do not have to worry about it using too much water.
* This post contains affiliate links. If you make a purchase, we may or may not receive a small commission which helps to support this site. Thank you!
Disclaimer: Chris has received no compensation for this post but was given free product for the purpose of review. Her opinions and words are her own. Your thoughts & opinions may differ. Please read our Official Rules before entering this giveaway. We must receive all entries by the end date of the contest and the odds of winning are determined by the number of entries received. No purchase necessary to enter. Affiliate links may be used in this post.