** Holiday Gift Guide 2013 **
I am a gamer. I love video games, PC games, even games on my phone. Sometimes, when I am waiting for someone or something somewhere, or even on my down time, I will play games on my phone. They are there, readily available, and usually free or cheap, depending on the type of phone you may have. Not only am I a gamer, but also a 'techie'. I love anything technological, and I'm an avid Android advocate. So when I received a PlayMG Android device to review, I was extremely excited. I also got a pre-paid card for $10. I couldn't decide what app to get first!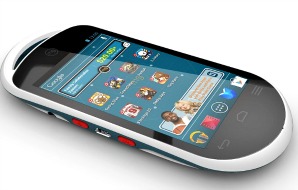 The only issue with playing games on my smartphone is that my battery barely lasts a couple of hours from all the constant use. Now, with the PlayMG All in One Mobile Android Entertainment System, I have a new device dedicated to my own entertainment. It is a sleek, pocket-sized gaming device with a good-sized 4-inch touch screen.
This playing device has all the great common games and well known like Candy Crush, Angry Birds, Fruit Ninja, etc. It has awesome apps like Facebook, Twitter, Netflix, and much more!
With the MG I can upload my own music, read a Google Play book, and download almost any app (over 60,000+ from Google Play!), especially since it has the latest version of the Android system. Also, the MG is free to use off of any Wi-Fi, which also helps my internet costs on my smartphone.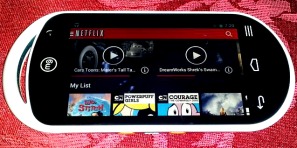 Although it is a device meant for younger people, such as kids and teens, I think even people my age (21 yrs) or older may like it too. My nephew (14 yrs) seems to like it quite a bit. His mother likes it too! She's used to him borrowing her phone also, draining her battery and causing extra charges on her bill for an app or music that he downloads. I may be 21 years old, but I feel giddiness with this product that I was not able to get in my teenage years. Especially since I was never lucky enough to get an iPod, or even a basic cell phone until I was able to pay for it myself!
The founders of this company, are all experts in technology, social, and gaming. As parents too, they wanted to redesign how kids and parents enjoy and manage all the choices that technology, entertainment, and design can bring to a new generation. Truth is, big companies design mostly for adults — hoping that young people will adapt. They dedicated themselves to innovating devices and systems that are at the top of their class in design, power, and choice for young people. They like to think that they are taking "Play" and putting it back where it belongs…. into the right people's hands.
In my opinion, this is a great product, and it has something for anyone, no matter what age. It is wonderful for young people and this is where the adults can adapt! The idea of being able to control the charges with the Family Collaboration System so kids enjoy while parents "Trust, but verify" is a great feature.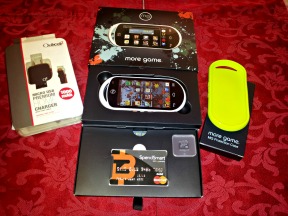 With all the apps and features, and an interchangeable SD memory card, it is comparable to the iPod touch, but at a great value. This way, it can be almost half the price depending on the memory size! With the holidays coming up, I think it would be a fantastic gift to anyone, at such a great value! It is perfect for anyone that doesn't want to waste battery and money on games/apps, whether it's for you or your child. This is a great product for the holidays for a teen, to be watchful about spending, without surprise purchases.
Okay, so maybe I'll gift it to the nephew. He AND his mom will thank me. Since he always was on either her phone or mine to play games, I'll just make sure that I remind him to return the favor with his new and very cool PlayMG every once in a while!

Disclaimer: Ruby Santiago has received no compensation for this post but was given free product for purpose of review. Her opinions and words are her own. Your thoughts & opinions may differ. Please read our Official Rules before entering this giveaway. We must receive all entries by the end date of the contest and the odds of winning are determined by the number of entries received. No purchase necessary to enter. All Content on this site is Copyright of the Two Classy Chics All Rights Reserved