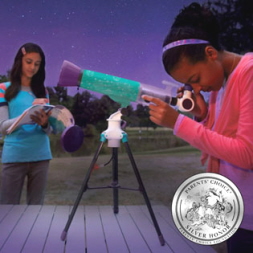 ** Holiday Gift Guide 2013 **
Today I would like to introduce you to the company called Educational Insights based out of Southern California. Educational Insights is the manufacturer of playful products with serious educational value, including subject-specific classroom products, teacher resources, educational toys, and games. Their products are designed by seasoned educators and parents who know that children love to learn when you make that learning experience fun!
For our review we received the Nancy B's Science Club MoonScope & Sky Gazer's Activity Journal to review for all of you. This educational scientific set is made for children ages 8 and up. Included in this set is the MoonScope and the 22-page journal full of astronomy activities.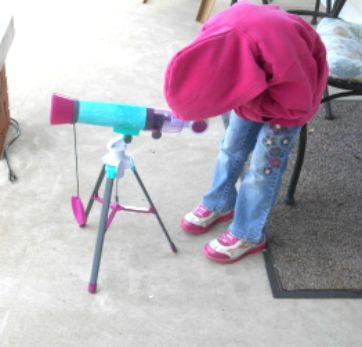 MoonScope Features: a comfortable eyepiece, finder scope with glow-in-the-dark edge, focusing knob, 4mm all-glass eyepiece, 20mm all-glass eyepiece and a moon filter.
Product Info: Magnify the night sky up to 90x and see amazing things such as mountains on the moon and Saturn's rings! Comes with two all-glass eyepieces, lens cap and tripod with built-in red LED light and special moon filter for scoping in the dark.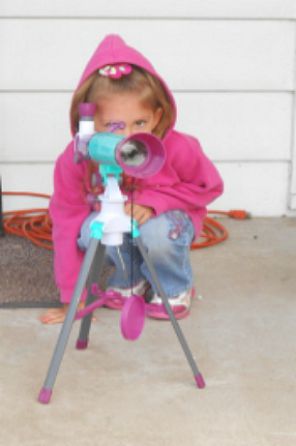 Our Thoughts: We got this fabulous MoonScope & Sky Gazer's Journal to review for all of you and let me just say…this is one of the best items from Educational Insights! Even though it was designed for nighttime use, it can also be used during the daytime hours.
For the purpose of the review…we took Princess outside and left her use it during the late evening hours (so I could get photos of it) and she was using it to check out various birds, trees, rabbits, etc. that live in the field across from our home. In other words, she was using it like a telescope and loved it!
What is really cool is that it comes with a tripod and 2 different lenses. Everything is made out of hard durable plastic so it's easy for kids to tote around and it's light-weight. When they are done using it, it collapses down and we put ours back into it's storage box & keep it underneath the Princess's bed. It doesn't take up much room at all.
We love educational toys & games that teach the Princess things that she needs to know. Since receiving it we have used it at night to look at the moon, stars and one evening we even caught a shooting star which Princess was pretty excited about.
You can purchase the Educational Insights 5351 Nancy B's Science Club Moonscope & Sky Gazers Activity Journal
directly from Amazon for a great price!
* This post contains affiliate links. If you make a purchase, we may or may not receive a small commission which helps to support this site. Thank you!

Disclaimer: Shelly Hill has personally reviewed the product listed above. Shelly has not received any monetary compensation for her review. Shelly did receive a free product to try out so she could evaluate and use it for her review. Her thoughts & opinions in this review are unbiased & honest and your opinions may differ. Two Classy Chics is not responsible for delivery of any giveaway items won from this blog. We are not responsible for injury or mis-use of any products won from the Two Classy Chics Blog. Please read our Terms of Service & Disclaimer Policy before entering our giveaways. This giveaway is not affiliated with Facebook or Google+ in any way. Thanks!