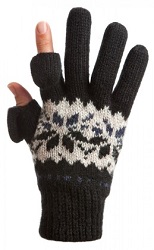 ** 2013 Holiday Gift Guide Feature **
Many of us use technology to keep in touch with friends and family members and/or for work. I know for myself, I own a cellphone, tablet, 3 laptops, an iPad and an iPod. With that said, when it's cold outside and you are on-the-go how do you send a text message, dial a cellphone or even use your iPad when you are wearing gloves? Well, that isn't a problem anymore when you use gloves from FreeHands.com!
FreeHands gloves are designed to help you keep in touch by making it easy to use handheld devices without removing your gloves in cold weather. A quick flip of the caps on the gloves will expose your thumb and index fingertips to text, email and game while on-the-go. Josh Rubin designed Freehands to solve the glove-or-phone conundrum after he found himself answering his iPhone with his nose in the winter of 2007.
The FreeHands gloves come in a variety of men's, women's and unisex styles including colorful knit, Thinsulate-lined ragg wool, eco-friendly fleece, heavy-duty ski and lush cashmere gloves. The collection also includes a liner version with conductive tips on two or five digits, useful to iPad users.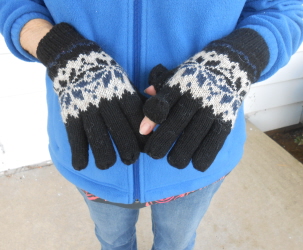 The FreeHands Snowflake Ragg-Wool Women's Gloves are one of the warmest gloves in the line. They feature a retro snowflake design, 50% wool shell with thinsulate interlining. Palm dots ensure a secure grip and magnets keep the finger caps out of the way when folded back.
These gloves definitely keep your hands toasty warm and they fit a women's hand perfectly. I love the ribbed knit cuffs which keeps the wind & cold air out! I found these gloves to be very comfortable to wear and they were super easy to use. Simply pull the finger cap back to expose your fingertip and you can text, use your phone or other device comfortably and easily.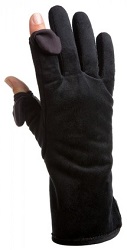 The FreeHands Microfur Women's Gloves are the softest gloves I have ever put onto my hands! Seriously ladies, these gloves are super soft! The gloves feature a two-layer fabric that is velour on the outside and faux fur on the inside. There is  a full digital palm grip and magnet-secured flip-back index finger and thumb caps.
What I love about this pair is the fact that they are super soft and feel great against your skin. I also think they are classy looking and can be worn to the office, with a holiday dress, a night out on the town or wear them with blue jeans & a winter coat. This pair will go with everything!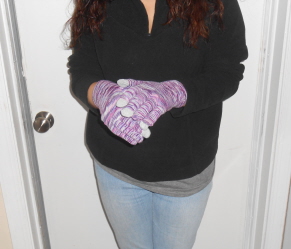 The FreeHands Keep in Touch Marled Women's Gloves come in 3 different colors: Greens, Purples and Reds. They are made out of a stretchy fabrication consisting of Acrylic/Spandex and will stretch to fit ladies & kids! The index,
middle finger, and thumb have conductive thread knitted in. Palm dots
for grip.
My daughter won't wear thick & bulky gloves and these gloves are perfect for her. They are thinner but yet super warm. They stretch to comfortably fit your hand and those palm dots for gripping are fantastic! Not only that, they come in some super fun colors too!
Giveaway: One lucky winner is going to win a pair of the Snowflake Ragg Wool Women's gloves! You will love them! Note – We do NOT guarantee delivery before Christmas!
CONTEST CLOSED
Giveaway Details: This giveaway is open to residents of the US ONLY age 18 and over. Please read our Terms of Service & Disclaimer Policy before entering. This giveaway will close on December 8th, 2013 at 11:59 pm EST time. No purchase necessary to enter or win.

Disclaimer: Shelly Hill has personally reviewed the product listed above. Shelly has not received any monetary compensation for her review. Shelly did receive a free product to try out so she could evaluate and use it for her review. Her thoughts & opinions in this review are unbiased & honest and your opinions may differ. Two Classy Chics is not responsible for delivery of any giveaway items won from this blog. We are not responsible for injury or mis-use of any products won from the Two Classy Chics Blog. Please read our Terms of Service & Disclaimer Policy before entering our giveaways. This giveaway is not affiliated with Facebook or Google+ in any way. Thanks!