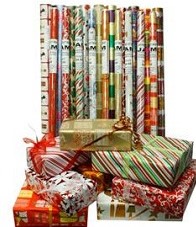 Many of us are well into our holiday shopping season and have been out purchasing all of those holiday gifts that we need. In addition to buying those gifts, we buy holiday wrapping paper, gift bags, bows, ribbons, gift tags and all of those necessary items that we need to wrap & present our holiday gifts.
If you are like me, you don't want to spend a ton of money on your holiday gift wrapping supplies but you do want your gift presentations to look nice and fancy.
A few weeks ago I stumbled upon JAM Paper and wow…I was immediately impressed with this store! They sell all kinds of gift wrapping supplies or any gift occasion.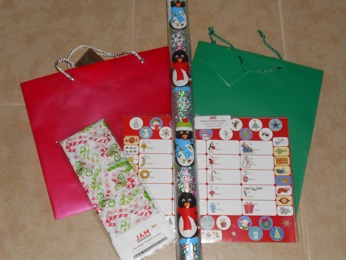 For my review the company sent me the following items:
* 1 Roll of Glittery Wrapping Paper
* 1 Pack of Candy Cane Tissue Paper
* 1 Pack of To: & From: Gift Stickers
* 1 Large Red Opaque Shopping Bag (Red Gift Bags)
* 1 Large Green Matte Gift Bag
When I wrap gifts for my family I use both wrapping paper and gift bags depending on what the item is and to whom I am giving the gift to. For the kids in the family I always go with wrapping paper as kids like to rip the paper off their gifts. I use mostly gift bags for the adults!
I used the Glittery Wrapping Paper to wrap some gifts for my grand daughter. I love this wrapping paper because its a nice weight and not thin! It didn't rip out at the corners like cheap paper does and wow, this paper is super pretty with all of that glittery effect that it has. I then used the To: & From: stickers to label my packages.
I had some adult gifts that were not in boxes and were odd shaped and I decided to use the Red Opaque Shopping Bag and the Green Matte Gift Bag for those. I loosely tucked in the Candy Cane tissue paper among the gift items, filled out the gift tags (attached to each bag) and I was done.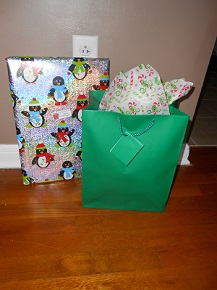 Within 20 minutes I had about ten gifts wrapped and ready to go. That glittery wrapping paper was my favorite out of everything I reviewed and those gift bags are super high-quality. They will even hold your weightier items like glass jar candles without the bag's bottom ripping a part. Love those bags too! The candy cane tissue paper is different looking and I love it! Printed tissue paper is always so pretty and I love using it around the holiday season.
Head on over to JAM Paper and take a look around! They have a vast selection of products and all of them are at super affordable price points. Their shipping is super quick and their quality just can't be beat! I am giving them a big 2-thumbs up!

Disclaimer: Shelly Hill has personally reviewed the product listed above. Shelly has not received any monetary compensation for her review. Shelly did receive a free product to try out so she could evaluate and use it for her review. Her thoughts & opinions in this review are unbiased & honest and your opinions may differ. Two Classy Chics is not responsible for delivery of any giveaway items won from this blog. We are not responsible for injury or mis-use of any products won from the Two Classy Chics Blog. Please read our Terms of Service & Disclaimer Policy before entering our giveaways. This giveaway is not affiliated with Facebook or Google+ in any way. Thanks!