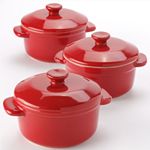 ** 2013 Holiday Gift Guide Feature **
I admit…I am a foodie and proud of it! I love to cook and bake which means that I have an addiction for great kitchen tools, cookware, dinnerware, bakeware, etc. I seriously can not get enough of great kitchenware in my own home!
In addition to being a foodie, a lot of my family and friends are foodies too! Every year we like to exchange holiday gifts and our gift exchange is always centered around gourmet food, beverages and/or kitchen items.
When it comes to shopping for great foodie gifts for people on your holiday shopping list, Kohl's is your go-to store for high-quality products at affordable prices.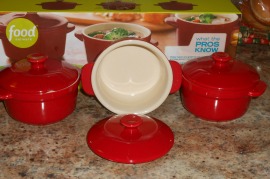 For my review Kohl's sent me a complimentary Food Network Set of 3 Covered Mini Bakers to review for all of you. When you think of mini bakers, think of ramekins. These mini bakers are perfect for single-size portion control and they go from oven to table.
This particular set is in a beautiful medium red color which is perfect for the holiday season. They are microwave safe, dishwasher safe and they can safely go into the refrigerator. The mini bakers are perfect for making homemade baked fruit cobblers, mini pies, baked custards, baked puddings, mac 'n cheese or try making your favorite mini meat pies in them.
The set comes with 3 stoneware mini bakers with matching lids. I love that each baker has built-in side handles so that I have something to grip on when removing them from the oven. They are oven safe up to 450 degrees and come in a great gift box!
I decided to use my new mini bakers to make a baked homemade pumpkin pudding which is really like a baked custard. I love baking in stoneware because I get even heating with no cold spots and they are naturally nonstick.
After spending a few minutes whipping up my ingredients I placed them into the oven. When I make homemade puddings & custards, I place my mini bakers inside a glass baking dish that is 1/2 filled with hot water. I then baked my pumpkin pudding/custard for 30 minutes and removed them from the oven.
I left them cool for about 40 minutes and then I decided to serve it right inside each of the mini bakers. They are so attractive that you can serve your guests from oven to table with no issues at all. I had even baking with no burnt spots and no cold spots. The centers were just as done as the edges. We topped ours with some frozen whipped topping.
Afterwards I tossed them into the dishwasher on the top rack and ran them through. They came out sparkling clean with no crusty debris left behind. They look just as fabulous as when I took them out of the box!
This set of Food Network Mini Bakers is sold at Kohl's with a suggestive retail price of $29.99. I think they are fabulous and I am going to head to Kohl's to look for them in some additional colors. Personally, I think they make the perfect foodie gift because you can never have enough stoneware mini bakers on-hand for holiday baking.
Great gift to give and a great gift to receive! You can find another set right now at Kohls.com that is a Food Network Mini Baker Set that is currently on sale for only $14.99. Great time to grab a set for you and a friend!

Disclaimer: Shelly has personally reviewed the product listed above. Shelly has not received any monetary compensation for her review. Shelly did receive a free product to try out so she could evaluate and use it for her review. Her thoughts & opinions in this review are unbiased & honest and your opinions may differ. Two Classy Chics is not responsible for delivery of any giveaway items won from this blog. We are not responsible for injury or mis-use of any products won from the Two Classy Chics Blog. Please read our Terms of Service & Disclaimer Policy before entering our giveaways. This giveaway is not affiliated with Facebook or Google+ in any way. Thanks!