** 2013 Holiday Gift Guide Feature **
The Sauce Goddess is a company that sells delicious tasting barbecue sauces, dry rubs, spices and snacks. You can order their products directly online and find them in some retail locations.
The holiday season is swiftly approaching and I know a lot of people who appreciate gourmet foodie gifts. Not only that, if you are looking to try out something new during the holiday season, head on over to the Sauce Goddess and check out their recipes.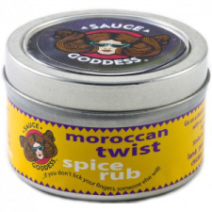 For our review they sent us the Sauce Goddess Moroccan Twist Spice Rub to try out for all of you. Along with the spice rub came 3 different recipes. For the review we decided to whip up a batch of the Mashed Moroccan Sweet Potatoes which only requires a handful of ingredients.
Moroccan Twist Spice Rub Info: This seasoning is a light fresh curry. It's delicious on lamb, chicken and pork. It's also great with lentils, corn on the cob and jasmine rice. Each 1.75 oz. tin comes with recipes. Cost $8.00 each.
For the Mashed Moroccan Sweet Potatoes we followed their recipe using the Moroccan Twist Spice Rub, butter, vanilla yogurt, chicken stock, water, brown sugar and large cooked sweet potatoes.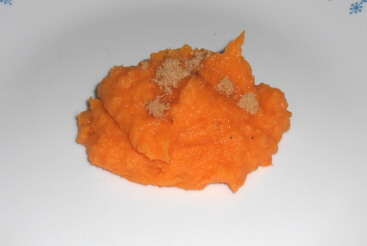 From start to finish it only took us about 40 minutes to make them and we served them alongside some barbecue chicken wings, corn on the cob and a pumpkin pie for dessert. Everyone who tried the Mashed Moroccan Sweet Potatoes raved about them! They were seriously good! We are looking forward to trying out their Moroccan Twist Wings with Apricot Glaze next.
Head  on over to the Sauce Goddess store and take a look around. They have delicious sauces, spices and rubs! Yay!
* This post contains affiliate links. If you make a purchase, we may or may not receive a small commission which helps to support this site. Thank you!

Disclaimer: Shelly Hill has personally reviewed the product listed above. Shelly has not received any monetary compensation for her review. Shelly did receive a free product to try out so she could evaluate and use it for her review. Her thoughts & opinions in this review are unbiased & honest and your opinions may differ. Two Classy Chics is not responsible for delivery of any giveaway items won from this blog. We are not responsible for injury or mis-use of any products won from the Two Classy Chics Blog. Please read our Terms of Service & Disclaimer Policy before entering our giveaways. This giveaway is not affiliated with Facebook or Google+ in any way. Thanks!