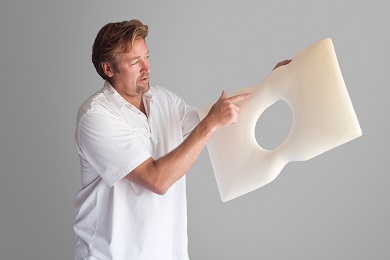 ** 2013 Holiday Gift Guide Feature ** 
Like most people I don't always get a good night's sleep. Matter of fact, 5 out of 7 nights a week, I toss, turn, moan and groan because I just can't get comfortable. I am not a back sleeper or a tummy sleeper and prefer to sleep on my side. I suffer with chronic neck pain, shoulder pain, back pain and hip pain. Getting a good night's sleep is important to me and my overall health.
Let me introduce you to the Proper Pillow. This pillow combines comfort and corrective therapeutic properties to optimize neck and spinal alignment. The low density orthotic mold shapes to each sleeper with the ideal amount of support and the low density foam allows your body to perfectly fit the pillow as it maintains its supportive shape.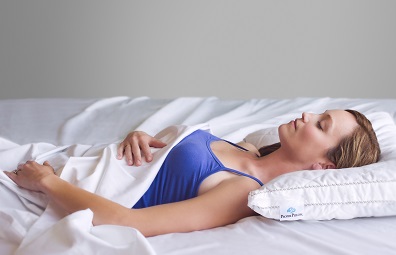 The Proper Pillow was designed and created by Dr. Rick Loos, a San Diego chiropractor to help reduce back pain, neck pain and headaches due to improper sleeping positions. It took Dr. Loos 5 years and 77 prototypes before we created the perfect Proper Pillow for all of us!
The Proper Pillow features a luxurious low-pile quilted outer shell, fine denier hollow polyester fiber outer sleeve, a jersey cover and a low density polyurethane memory foam (inner orthotic). All of this optimizes spinal and neck alignment. The patent pending inner orthotic pillow molds to fit each sleeper with the ideal amount of support to properly align the neck, back and spine. The quilted outer shell, polyester fiber outer sleeve and the jersey cover are all machine washable.
According to the manufacturer, once your new pillow arrives you take it out of its storage bag and let it sit out for 24 to 48 hours before using it. By doing this, you allow the pillow to come up to room temperature and you allow it to "air out" because sometimes memory foam can get a slight odor. I left mine sit out on our guest bed for 2 entire days before I put it into a pillow case.
I then took it over to our master bedroom and later that night I slept with my new Proper Pillow for the first time. The two nights I had to adjust to sleeping with it but after that…I was in pure heaven! Seriously…HEAVEN! For the first time in a very long time I felt that my head, neck and shoulders were perfectly supported. I didn't toss & turn all night long and I didn't wake up cranky with a headache.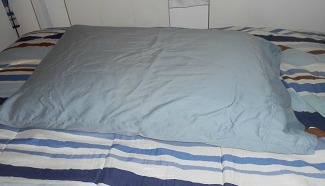 Another thing I noticed was that after the first week, my upper back pain was decreased by about 70% which is a big milestone for me! Furthermore, I have tried memory foam pillows in the past which were too firm, smelled terrible and over-heated me since memory foam traps heat. Thanks to the extra layers in the Proper Pillow I had NONE of those issues with it. None, absolutely…NONE!
This pillow has the absolute perfect support & loftiness for me. Even hubby has been grabbing for it and trust me, I take it back! He needs to get his own Proper Pillow and leave mine alone!
* This post contains affiliate links. If you make a purchase, we may or may not receive a small commission which helps to support this site. Thank you!

Disclaimer: Shelly has personally reviewed the product listed above. Shelly has not received any monetary compensation for her review. Shelly did receive a free product to try out so she could evaluate and use it for her review. Her thoughts & opinions in this review are unbiased & honest and your opinions may differ. Two Classy Chics is not responsible for delivery of any giveaway items won from this blog. We are not responsible for injury or mis-use of any products won from the Two Classy Chics Blog. Please read our Terms of Service & Disclaimer Policy before entering our giveaways. This giveaway is not affiliated with Facebook or Google+ in any way. Thanks!