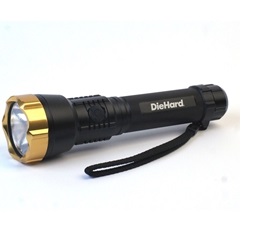 ** 2013 Holiday Gift Guide Feature **
Today I would like to introduce you to the lighting company called Dorcy who sells hundreds and hundreds of indoor and outdoor lighting products. When you shop at Dorcy Direct you will find motion sensing lighting, flashlights, flood lights, path lights, battery operated ceiling lights, camping lanterns, headlights, spotlights and so much more!
I have had the pleasure of reviewing several fabulous products from Dorcy Direct over the past year or so and I have never been disappointed with any of them.  The holidays are just around the corner and today we have a GREAT holiday gift for those men on your holiday list who need a quality, professional flashlight!
For this review, my husband was sent the DieHard® 41-6009 6 AA 619 Lumen LED Flashlight to review for all of you. I will admit upfront, my hubby is HARD on things like this due to his occupation. He is a licensed HVAC professional with his plumbing, electrician and Freon licenses. He knows quality tools when he sees them and works with tools every day at work or at home.
DieHard 6AA Extreme Flashlight Features:
* 619 LED Lumens
* Beam Shines Overs 1,000 Feet
* Anodized Aluminum Hi-Lo Beam
* Mode 1 (high beam) 619 Lumens
* Mode 2 (low beam) 173 Lumens
* Easy Push Button Switch
* Convenient Attached Lanyard
* Uses 6 "AA" Cell Batteries, Included
Product Description (from site): The 600+ Lumen LED DieHard Extreme Lumen Flashlight features Dorcy's exclusive TrueSpot® reflector technology, providing world class brightness and an intense beam of light through 618 lumens output that projects a 363 meter beam distance. The flashlight is constructed of aerospace grade anodized aluminum, and contains a polycarbonate lens making it extremely durable. The LED flashlight is o-ring sealed against dust and moisture providing a weather resistant design (IPX4). This flashlight has a multi-functional side mounted push button switch offering high & low setting.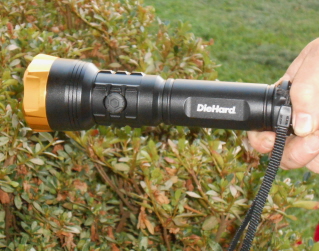 Our Thoughts: Hubby loves flashlights and I would estimate that he owns at least 20 of them. He keeps some of his flashlights at home, some are in the car & truck and many of them are at work. He manages a large HVAC work crew so these boys know quality flashlights when they see them.
The first thing that hubby said to me about this particular flashlight is that he loves that its made out of durable Anodized Aluminum. The guys are always dropping their flashlights onto hard surfaces so having one that isn't made out of plastic is a "must" in their profession. Next, he loves that there are 2 light settings, a low mode and a high mode. He can set it for the exact amount of light he needs for whatever project he is working on.
Finally, there are times they are outdoors working on external heating & AC systems and thanks to the powerful 619 Lumens, they can see what they are doing even in the dead of night. With a beam that shines over 1,000 feet it is a great flashlight to have on hand. My brother is an outdoorsman who fishes, boats, hunts, does archery, etc. and this flashlight would be perfect for him too!
Hubby said it is one of the best and most powerful flashlights he has ever used. You can pick them up at Dorcy Direct for around $89.99 and he said it is money well-spent!

Disclaimer: Shelly has personally reviewed the product listed above. Shelly has not received any monetary compensation for her review. Shelly did receive a free product to try out so she could evaluate and use it for her review. Her thoughts & opinions in this review are unbiased & honest and your opinions may differ. Please read our Terms of Service & Disclaimer Policy before entering our giveaways. This giveaway is not affiliated with Facebook or Google+ in any way. Thanks!