** 2013 Holiday Gift Guide Feature **
A few weeks ago we reviewed some outdoor Christmas lights from the Yard Outlet that we placed around one of our shrubs near our front door. You can currently find that review right here on our blog and you can enter the giveaway for a large outdoor LED Holiday Wreath that the Yard Outlet is sponsoring.
Over the next few weeks we are going to show you how you can "spruce up" your outdoor spaces with Christmas and Holiday Lights from the YardOutlet.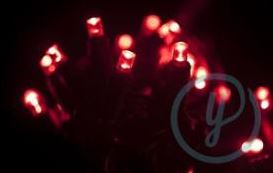 For this review the company sent us the Red 5MM 70 LED Holiday Lights, 4″ Spacing string of lights to review for you.
This 5MM LED strand comes with a standard plug end and is features all one-piece construction. If you are like me, I don't like complicated things and using these lights is easy peasy! The larger size lens on this strand really makes those lights bright and you can see them from a distance.
They are UL listed so you can use them indoors or outdoors. In our case, we used them outdoors and placed them around our lamp post. One of the reasons that makes them great for outdoor use is that the bulbs won't break if they fall to the ground or if you get a windy day and they smack up against something. Trust me, we just went through a 45 mph wind storm over the weekend and our lights are still perfectly in-place and working fabulous!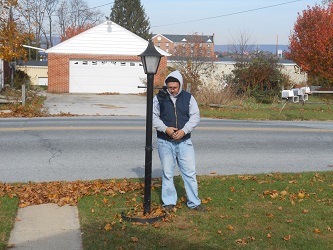 My husband simply wrapped them around the lamp post and then removed the cover of our lamp post to plug them in. We also removed our regular LED bulb from the lighting fixture and place a red LED bulb inside it. We wanted a coordinated look. We did NOT have to run extension cords out to the lamp post since he hooked them up this way. Within 10 minutes our lamp post was dressed & ready for the holidays and we love it!!!
Every time I turn on my lamp post light from within the house, the lamp post light comes on along with the strand of red LED lights we wrapped around it. Looks super pretty and my neighbors are already jealous about it! Ha!!!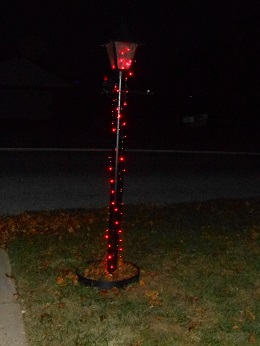 These are not your cheapo lights you find in a discount bargain bin people, these are high-quality lights that will last you for many years to come. Wanna talk about affordable? You bet, only $16.49 each!  Don't want red? Don't worry, they got several fabulous colors to choose from!
You don't have to be a rocket scientist to decorate your lamp post for the holidays. There is nothing complicated about this at all. One strand will do your entire lamp post and wow…it really makes a different in your outdoor decor and you get nice & vibrant colors with them!
Looking for some great ideas? Check out the Seasonal Source design gallery. Oh my gosh…I love those designs! For tips and design ideas you can follow the Seasonal Source on Twitter and check out the Seasonal Source on Pinterest.
Over the next two weeks I will be sharing more photos and information with you on how we decorated our house with holiday lights, wreaths and swags from the Yard Outlet! Stay tuned for those posts to give you all some great ideas on how you can do it too!

Disclaimer: Shelly has personally reviewed the product listed above. Shelly has not received any monetary compensation for her review. Shelly did receive a free product to try out so she could evaluate and use it for her review. Her thoughts & opinions in this review are unbiased & honest and your opinions may differ. Two Classy Chics is not responsible for delivery of any giveaway items won from this blog. We are not responsible for injury or mis-use of any products won from the Two Classy Chics Blog. Please read our Terms of Service & Disclaimer Policy before entering our giveaways. This giveaway is not affiliated with Facebook or Google+ in any way. Thanks!