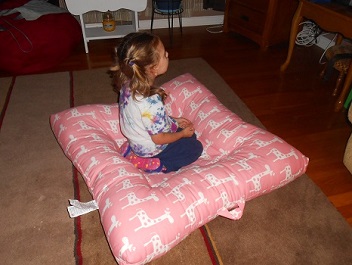 ** 2013 Holiday Gift Guide Feature **
LaLaLounger is an unique children's floor cushion designed to allow parents hands free time while providing a baby with a soft, cozy environment right next to them. The LaLaLounger is made for children of all ages, from babies right up to older children.
When selecting a LaLaLounger you can choose from a "naked" lounger which comes only in a neutral color or you can select from an upholstered lounger (tons of great colors & prints available) or you can get a "custom" lounger by sending them your own fabric. In addition, you can purchase additional slipcovers for your lounger.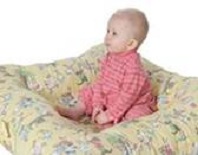 Suggested Uses:
Infants: a cozy environment for a newborn while you're doing chores.
6-18 months olds: a safe place to practice sitting up and playing with toys.
Toddler: their own place to play, read or take a nap.
Older children: a comfortable cushion to read, rest or watch TV.
My Thoughts: Oh my gosh…where was the LaLaLounger when I had small children at home? Where was it when my grand daughter was born? Well, now that I know about the LaLaLounger you can bet we will have one when the next grand baby arrives!
The Princess has been loving her new LaLaLounger which she uses when she wants to watch TV. It is so much better than letting her sit on a cold, bare floor. She is 4 years old and fits perfectly on the lounger and she even loves to take her afternoon naps on it. It's her favorite seat in the house!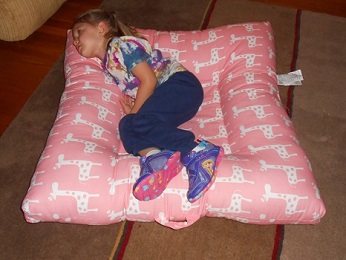 There is plenty of loftiness to this lounger and I love that there are two side handles which makes it easy for me to move from room to room. Sometimes its in our living room and at other times we move it into the family room.
The covers are made out of super soft 100% cotton and you can easily remove them and toss them into the washing machine. There is a velcro closure so no nasty metal zippers to scratch the little ones. I really appreciate that!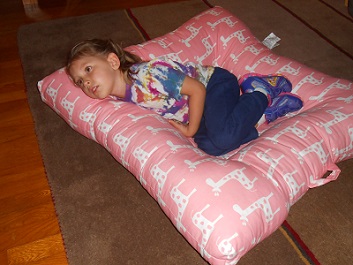 The one we received for the review is an upholstered one done with a pink background and a white giraffe print. I think it's adorable! The LaLaLounger is a tad on the pricey side at $90.00 each and extra slipcovers are $35.00 each…but I think it's an expense that is well worth it. Why? Because this LalaLounger can grow with your child. Use it while they are an infant, then a toddler and then as a small child. You can change the slipcover to a different design as your child grows. A smart investment if you ask me!
Head on over to LaLaLounger and take a look at all of the wonderful designs that they have and to learn more about this fabulous product.

Disclaimer: Shelly Hill has personally reviewed the product listed above. Shelly has not received any monetary compensation for her review. Shelly did receive a free product to try out so she could evaluate and use it for her review. Her thoughts & opinions in this review are unbiased & honest and your opinions may differ. Two Classy Chics is not responsible for delivery of any giveaway items won from this blog. We are not responsible for injury or mis-use of any products won from the Two Classy Chics Blog. Please read our Terms of Service & Disclaimer Policy before entering our giveaways. This giveaway is not affiliated with Facebook or Google+ in any way. Thanks!