** 2013 Holiday Gift Guide Feature **
When it comes to planning and cooking a big holiday meal, it can be stressful. Thankfully there is plenty of help available in the form of premium condiments from Crosse & Blackwell. They have been serving up delicious help for cooks since 1706! I think they have learned a thing or two. I was excited to try out some of their products and share them with you too.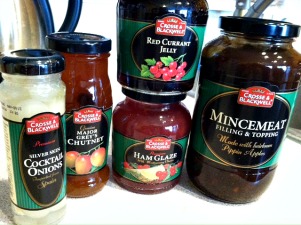 You may recognize the Crosse & Blackwell brand by their red label. They first started in England and today they are a part of the J.M. Smucker family. I was sent an assortment of their products to review. I received a Jar of Mincemeat, Ham Glaze, Red Current Jelly, Mango Chutney and Cocktail Onions. What a fun collection! I planned a few dinners around the products so I could try them all.
First I made a recipe with pork chops that used the Red Current jelly. I found the recipe online and it was super simple by just browning the chops in a pan after seasoning with season salt and pepper. Then I spooned a half cup of jelly along with a few squirts of spicy brown mustard and stirred them together. It was pretty strange looking but smelled heavenly. I then topped the chops with the mixture, added a bit of water and covered them for a few minutes to finish. It was delicious! I was really surprised! Definitely a keeper for us.
A few days later, I made a ham for dinner and used the Crosse & Blackwell Ham Glaze as directed on the jar. It is so easy to use. Simply coat it on your ham about 30 minutes before serving. The glaze is made with cherries, pineapple and some cloves. It was really good! Even my son commented on it and he usually says nothing about food.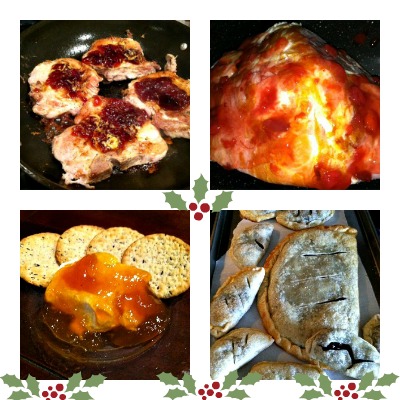 For snacks during football we enjoyed the Mango Chutney over some cream cheese. I served it with some multi grain crackers and it was good. I liked the combination of the mango and tamarind with some raisin flavor to it. It reminded me of the mincemeat flavoring, which this family enjoys.
Finally, the favorite – especially for my hubby. He is the only one I know that loves mincemeat pie. And no, it does not have meat in it. It is made from apples, raisins and orange with lovely flavors. I had to learn how to make it after we got married and the only brand I use is Crosse & Blackwell. It is authentic and oh, so good. Yes, I have learned to enjoy a small piece or so. So instead of making a whole pie, hubby made some small turnovers so that we could enjoy a few bites for dessert and then freeze a few too.
Overall, we were excited to try new flavors and meals with the Crosse & Blackwell premium condiments. I find these products at my grocery store but you can also purchase their product at their online store too. Visit their site for their full line of products, recipes and videos on how to use these awesome products. Perfect for Holiday Dinners and New Years Party's!
* This post contains affiliate links. If you make a purchase, we may or may not receive a small commission which helps to support this site. Thank you!
Disclaimer: Chris has received no compensation for this post but was given free product for the purpose of review. Her opinions and words are her own. Your thoughts & opinions may differ.