** Holiday Gift Guide Feature **
Our family loves a good old fashion BBQ with ribs, chicken and all of the fantastic side dishes that go along with it. My hubby has a great triple BBQ with a smoker, charcoal grill and a propane grill combined and it gets a workout all year around. Because of that, we love to sample different BBQ sauces, and rubs often so we can experience a lot of different flavors and blends. I was sent a tasty gift pack from a company based in Oklahoma and it is a winner!


Cookshack is a family owned business that provides smokers, pellet grills and BBQ products for residential, commercial and competition cooking. They also have a fabulous line of BBQ seasoning that I was excited to try out. I was sent the Cookshack 5 pack Spice Kit to review.
The 5 pack spice kit is comprised of the Cookshack Chicken Rub, Brisket Rub, Chili Mix, Rib Rub and their Spicy Sauce. From the first moment we opened the box, we could smell the wonderful scents. We had to open each one and taste the seasoning mixes one by one. Oh yes, this is a tasty treat!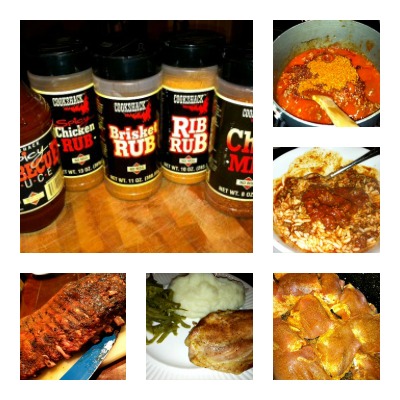 The first thing I made was Chili using their tasty mix. The taste was mild and easy to prepare. I just used the recipe on their bottle and it was done in a flash! I am a chili lover and this is a great tasting mix that your whole family will love, just like mine.
The Chicken Rub is super tasty too! It is all inclusive and I used nothing else on the chicken and it was full of flavor. Plus it even had a tiny kick to it. It is full of flavor and so good. I even dipped some of the chicken in the Cookshack BBQ sauce for a flavor explosion.
Ribs are a huge favorite in this house. My hubby has been working on his technique and it is so tender and delicious. The BBQ Rib Seasoning was a fabulous addition and everyone loved it. We love our ribs dry, with rub seasoning only, with sauce on the side and the combination of the 2 is so good! We did not get a chance to try the Brisket Rub yet, but just tasting the seasoning mix, I know it is going to be amazing!
What I love about the Cookshack products is that these are not overly spicy. I like that I can control how much spice to add. My hubby does not like spicy foods so this combo Gift Pack was the perfect one for him. Even the ones that say they are spicy are not over the top hot so everyone could enjoy them. Also these seasoning mixes are in good size bottles so you are getting a good value for your money.
If you are a BBQ lover or have one on your shopping list, you need to check out Cookshack. Plus their grills and smokers look awesome too. Hubby has his eye on one, heaven help me!
* This post contains affiliate links. If you make a purchase, we may or may not receive a small commission which helps to support this site. Thank you!
Disclaimer: Chris has received no compensation for this post but was given free product for the purpose of review. Her opinions and words are her own. Your thoughts & opinions may differ. Please read our Official Rules before entering this giveaway. We must receive all entries by the end date of the contest and the odds of winning are determined by the number of entries received. No purchase necessary to enter. Affiliate links may be used in this post. All Content on this site is Copyright of the Two Classy Chics All Rights Reserved