** 2013 Holiday Gift Guide Feature **
I have to admit I am a big baby when it comes to headaches. I can handle pain anywhere else on my body and I have a pretty big tolerance for it too. But when it comes to headaches, I want to roll back to bed and burrow in there until it is gone. Thankfully I do not get them as often as I used to, but I have been finding that warm compresses have been helping my head and lessening the severity of the pain. I was really glad to be able to check out a new line of products from Carex Health Brands, a leading provider of in-home health products, that will help pain sufferers with relation with their new line.
Bed Buddy® At Home is a line of comfort items that are each filled with 100% grains for either hot or cold therapy. They are new to their expanding line of health products and offer a Comfort Wrap for your neck or head, Foot Warmers and a Relaxation Mask for your eyes. I was sent one of each to review.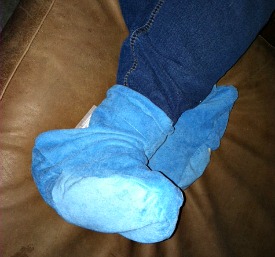 These products are scented with natural herbs, and infused with the aromatherapy of Lavender, Lavender Rose or Lavender Mint. This line also features the company's proprietary, doctor-recommended Moist Heat ThermaTherapy® to relax sore joints and restore tired muscles. Their Moist Heat ThermaTherapy® is shown to be better for treating muscle pain, chronic aches and pains, and arthritis than "dry heat" because it allows quicker, deeper heat penetration into the joints.
The Comfort Wrap features a flexible, form-fitting design that easily molds to the body to target a wide array of chronic pain areas such as the neck, shoulders and back. The Foot Warmers provide natural, cozy warmth in the cool winter months, while the Relaxation Mask provides relief from sinus, tension and migraine headache pain, in addition to offering calming relaxation. It was created to be used cold to treat tired, puffy eyes and warm for headaches and tension.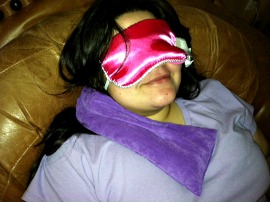 The first piece that I enjoyed was the Wrap. It is a nice size to use around my neck to lessen the tight cramping pain I get from working on the computer for so long each day and too many car wrecks. I threw it in the freezer and enjoyed the cold grains against my neck. It is so relaxing to use and I really like that the grains conform to your neck. They are loose in the corduroy covered wrap so you can adjust how much to have on one spot or another. I do wish it was a bit fuller on the grains. The sample I got seemed a bit light.
I love the booties aka Foot Warmers. They make my feet feel so warm and cozy! I hate when my feet are chilly because they make the rest of me cold too. These booties come up to the ankle and have an opening on the bottom that you can slide the grain packet in and out easily for your warm or cold treatment. Me, I am all for the warmth when it comes to my feet!! The corduroy fabric is soft and the size is pretty good. These are not made for walking with at all. The packet of grains go on the bottom of your feet, so you should take them off when you want to walk.
Lastly, the Relaxation Mask is a dual lined. One side is satin and the other is corduroy. The grains are nicely packed in this so it fits good around your face. This is lovely for headaches, sinus pain and just taking a relaxing nap. It can also be used cold or warm and it feels nice on too.



The scent on these products is not overwhelming at all. I am not a big fan of lavender but because of the blend on the ones that I received, it is a nice relaxing scents. All of these items are reusable, easy and safe to use. Plus these are a great natural alternative or a compliment to over-the-counter drug treatments. The lineup will be available at Rite Aid as well as other retailers across the country starting in November.
The Giveaway
One winner will receive one of each of the new Bed Buddy at Home products, just like I reviewed! Here is how you can enter to win!
CONTEST CLOSED
Giveaway Details: This giveaway is open to US Residents age 18 or over. You must complete the Mandatory Entry to be eligible. This giveaway will close on November 24, 2013 at 11:59pm EST Time.
Disclaimer: Chris Carroll has received no compensation for this post but was given free product for the purpose of review. Her opinions and words are her own. Your thoughts & opinions may differ. Please read our Official Rules before entering this giveaway. We must receive all entries by the end date of the contest and the odds of winning are determined by the number of entries received. No purchase necessary to enter. All Content on this site is Copyright of the Two Classy Chics All Rights Reserved