** 2013 Holiday Gift Guide Feature **
I love ice cream.. I think it could be considered my favorite dessert of all! But we all know how unhealthy it can really be. Loaded with fat and cholesterol, it is not the best alternative for a sweet treat on a regular basis. Now I also love creamy frozen yogurt and I often will enjoy that in place of ice cream as a healthy alternative. But as we know too the best sweet treat is fruit. Healthy and good for you! But getting the kids to eat fruit in place of a tasty dessert can be an issue… until now! I heard about this cool machine that takes fruit and makes them into ice cream. I was intrigued, so I needed to check this out and review it for you and my family!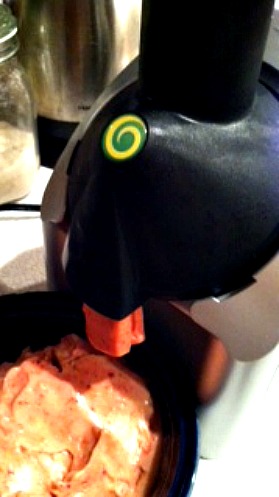 Yonanas is a new, easy to use ice cream maker that uses frozen bananas, fruits and other ingredients to make low cost, healthy soft serve ice cream. This cool machine was created by Dole and it is a great concept for offering delicious desserts made from fruit!
I got my machine and immediately read the directions so we could enjoy some goodness right away. But alas, I had to wait. The concept is to use frozen ripe bananas and other fruits to create delectable desserts in a flash. I did not happen to have any bananas in the house, so off I went to grab some. Now the machine needs ripe bananas to work best. So the ones where the skin has cheetah spots is best. You then peel the banana and place them in the freezer for at least 24 hours, in a freezer bag or container. Once the fruit has been in there and is frozen well, you can make your dessert!
So finally the day has come! The bananas were ready and I have also grabbed some peaches and strawberries from over the summer out of the freezer. You let the fruit sit for about 15 minutes and then it is ready.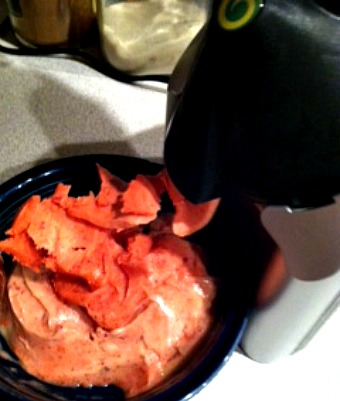 Now the machine itself is super easy to use. There are just a few parts and they all come together and come off easily for cleaning. To prepare your ice cream, you simply feed the fruit into the feeder shoot and use the tube to push it down into the tube. It is chopped and whipped into a frozen texture that is just like ice cream. But instead of cream, you have whipped frozen fruit.
Now, I have to say I am not a fan of banana flavor. I love the fruit but itself, but in anything else (other than banana bread) it is not for me – I know, weird. So my hubby and son made the first batch with banana and strawberry. They enjoyed it greatly! I made a second batch with strawberry and peaches and it was awesome! The texture is very much like ice cream but it is really a sorbet. I did add a touch of sugar, only because the fruit was pretty tart on its own. You then stir the mixture together in your bowl and enjoy!
* This post contains affiliate links. If you make a purchase, we may or may not receive a small commission which helps to support this site. Thank you!
The machine comes with a recipe guide, plus there are more recipes on their website. You can add all types of fruits, chocolate, or whatever you want to your ice cream to punch it up. There are easy recipes for Mixed Berry sorbet, Mango, Strawberry Pineapple. Now Chocolate Coconut sounds good! How about Nutella and Banana? Or Cherry Chocolate? This machine will do it all!
I think this is a very cool addition to our dessert options at my home. Perfect for entertaining and it really is a cinch to clean up. It is an awesome way to add healthy fruits into your kids diet too!
Disclaimer: Chris has received no compensation for this post but was given free product for the purpose of review. Her opinions and words are her own. Your thoughts & opinions may differ. Please read our Official Rules before entering this giveaway. We must receive all entries by the end date of the contest and the odds of winning are determined by the number of entries received. No purchase necessary to enter.