** 2013 Holiday Gift Guide Feature **
It seems so early to start thinking about the Christmas holiday's but with how fast time is flying, now is the perfect time to start doing your inventory on their items you will be needing. I was looking for wrapping paper for a friends birthday the other day and I realized I am very low in the paper department! I always keep paper, gift bags and tags on hand for gifts and holiday paper is always in my stash too. So I was excited to be able to add a review to our Holiday Gift Guide for some awesome paper goods for the Holiday and every day.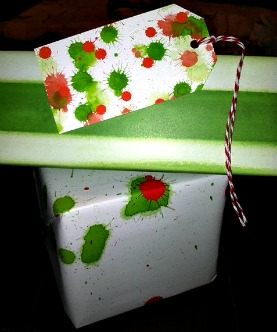 WrappedLA is a luxury wrapping paper design and manufacturing company based out of Venice, CA. They specialize in beautiful wrapping paper for all occasions but you can also find lovely journals, postcards, placemats, notepads and much, much more. They offer unique designs and understand that presentation counts!
I love paper products. I am not sure why, but I get very happy when I see beautiful notecards and other paper goods and it was no different when I opened the box sent to me from WrappedLA. Ohhh pretty stuff! I was send a lovely assortment of wrapping paper from the WrappedLA Holiday Collection along with gift tags and notepads.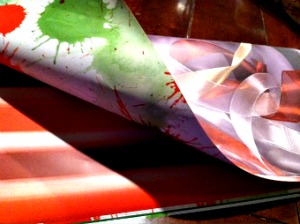 The paper is a great weight and perfect for wrapping heavy objects and boxes. You do not have to double wrap anything with this as it is a nice thick paper. A few of the Holiday themes are also double sided so you have a choice of style and additional variety. They offer several great patterns of their paper in the holiday theme as well as many others in more generic choices. You can see in this picture 2 gifts I wrapped. It is the same paper so you can see the double side print. Cute! Plus the paper is a good size for up to medium sized boxes. This is not meant for huge gifts. I wrapped 2 boxes with one sheet and had about 1/3 left over for one more small box.
I had a few Christmas gifts here already so I took the opportunity to wrap them with this great paper. I love the feel and weight of this. I have had heavy paper in the past and while it is gorgeous, it is a bit difficult to wrap with. This is a nice weight that wraps easily, makes great creased corners and looks fabulous. Plus I know that no one else is going to have this paper in town!
The Holiday Tags are great too! I was sent a nice assortment of them. They come in packages of 6 with lovely red and white string ties so you can add ribbon and attach it that way or tie a bow and simply tape it on. These are also a nice sturdy weight and they dress up your gift beautifully. You can choose from Holiday tags or other lovely designs for birthdays or any gift giving reason.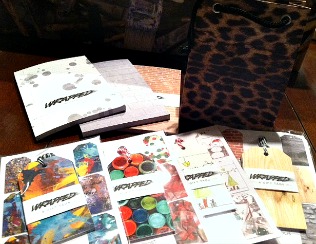 The note pads I received are a great all purpose size. I love adding notes to my holiday cards so a nice holiday theme would be awesome. These are just right for throwing in your bag or keeping one by the phone and in the office for messages. Love them! Plus the gift bags are great too! They offer 4 different sizes of bags for gift giving. They are a nice and sturdy so your gift will be well protected.
Now is the time to think about stocking up on great wrapping paper and even looking for holiday gifts for those that love stationery style products. They have just added a beautiful line of Wine Gift Bags too! You need to check out WrappedLA for unique papers for your gifts this Holiday!
The Giveaway
One lucky winner is going to get a $50 gift card to WrappedLA for awesome papers and gift ideas! Here is how you can enter to win.
CONTEST CLOSED
Giveaway Details: This giveaway is open to US Residents age 18 or over. You must complete the Mandatory Entry to be eligible. This giveaway will close on November 6th, 2013 at 11:59pm EST Time.
Disclaimer: Chris Carroll has received no compensation for this post but was given free product for the purpose of review. Her opinions and words are her own. Your thoughts & opinions may differ. Please read our Official Rules before entering this giveaway. We must receive all entries by the end date of the contest and the odds of winning are determined by the number of entries received. No purchase necessary to enter. All Content on this site is Copyright of the Two Classy Chics All Rights Reserved