My hubby is becoming quite the baker. He has been practicing with bread and cobblers over the past few months and has gotten quite good. One of the things we have been doing is adding more fiber and food with more nutrients to our meals. One easy way to do this is by adding Chia to our baking. We have been talking about how you can sprinkle chia seeds on foods to boost your nutrition, but did you know they're easy to bake with as well?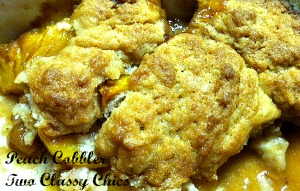 Chia seeds can be used as replacements for foods within recipes, such as eggs and fats, because of their binding and thickening characteristics. For a recipe with texture, such as cookies, muffins or breads with nuts, seeds, etc., whole chia seeds work great, whereas ground chia seeds are great for cakes, brownies and other less-textured baked goods. So we added some ground Chia Seed to this delicious peach cobbler my hubby made the other night. You cannot taste the chia at all so adding it is a smart option to your baking too!
Here are 10 great ways to use Salba Chia:
1. Sprinkled on top of salads (think sesame seed)
2. To make healthy pudding
3. To thicken soup or gravy
4. Mixed in oatmeal, yogurt or a smoothie
5. To make homemade energy gel
6. As a "breading" for baking chicken
7. In a meatloaf recipe!
8. Chia seeds soaked in fruit juice as a topping for ice cream or cheesecake
9. Baked in cookies, brownies or cake
10. Soak chia seeds in milk and mix through hot oatmeal
Give this easy recipe a try!
Gluten-Free Pumpkin Banana Bread
Ingredients
1 package Pamela's Baking & Pancake Mix, which can be found at natural food stores. Follow directions on the package for "Pamela's Muffins" and add the following:
1-1/2 each ripe bananas – mashed
1 cup canned pumpkin puree
2 tablespoons pumpkin pie spice
4 tablespoons ground Salba
Instructions
The package calls for sugar as the sweetener, but try using 1/3 cup Agave Nectar. Continue to follow directions for baking. These can be made as bread or individual muffins. Great served warm and topped with apple butter or homemade preserves
BONUS! Check out Salba Chia on Pinterest for more recipes!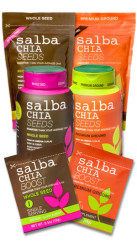 The Giveaway
2 winners will receive a Bag of the Salba Chia Whole Seed and Premium Ground to try out baking with Chia too! ( the 2 bags pictured at the top of this photo) Here is how you can enter!
CONTEST CLOSED
Giveaway Details: This giveaway is open to US Residents age 18 or over. You must complete the Mandatory Entry to be eligible. This giveaway will close on November 5th, 2013 at 11:59pm EST Time.
Disclaimer: Chris Carroll has received no compensation for this post but was given free product for the purpose of review. Her opinions and words are her own. Your thoughts & opinions may differ. Please read our Official Rules before entering this giveaway. We must receive all entries by the end date of the contest and the odds of winning are determined by the number of entries received. No purchase necessary to enter. All Content on this site is Copyright of the Two Classy Chics All Rights Reserved