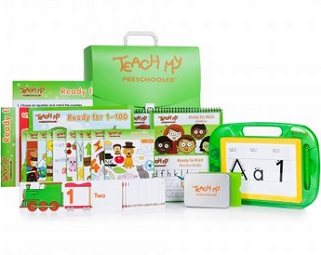 ** 2013 Holiday Gift Guide Feature **
Today we have a fabulous addition to our holiday gift guide and it's an item that I feel every family should have if you have preschool aged children. Originally my daughter and my grand daughter were going to do this review, but due to her schedule at work…I am doing it for all of you.
As you all know I have a 4 1/2 year old grand daughter who is attending her 2nd year of preschool. She is pretty educationally advanced for her age and I contribute that to the fact that we work with her all of the time. Yes, we give her fun things to do but educational toys and games are our main focus.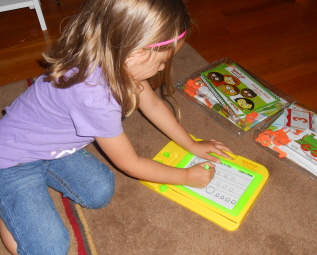 Let me introduce you to the Teach My Preschooler Learning Kit that is jam-packed with educational learning activities for your child. This one large kit in a box helps to teach your child: Reading, Printing, Numbers up to 100 and simple Math problems. The educational learning kit consists of 71 pieces and is made for children ages 3 to 6 years of age.
These kits are designed to be used for 20 minutes a day but let me tell you, Gia loves playing with them for HOURS a day! They are a great way to bond with your child, teach them educational things and it all seems like play time to them! Heck, they don't even realize that they are learning! This kit is an iParenting Media Award Winner!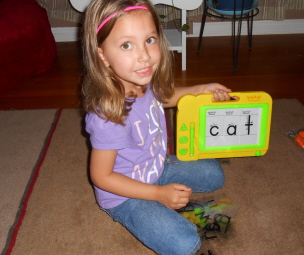 The kit is broken down into 4 educational subjects or mini kits: Reading, Printing, Numbers and Math. We started off with the Printing kit first. Gia knows all of her letters and can identify them but needed help in learning how to print them (and to print them nicely I might add). For the first couple of days we worked on this kit and she LOVED it!
We then started working on the Numbers 1-100 kit. To my surprise she can count clear up to 100 with no mistakes! I thought she could only count to 50 so I was pleasantly surprised with that. She LOVES the poster that came in this kit and took it into Preschool for Show & Tell Day.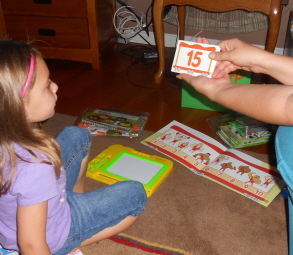 We then started with the Reading kit which comes with word flashcards, a reward tin, flash card holder and 10 books. Gia loves it when I read books to her and I am using this set to teach her how to read. The stories are really cute with adorable illustration. I love how simple the words are in these stories and she is really starting to pick them up and is in the beginning stages of learning to read.
In a few weeks I will start the Math kit with her once we get fully acclimated to the other 3 kits including in this massive sized Learning Kit. Another great thing to point out is that all of it is nicely organized into clear plastic storage cases and then those storage cases fit inside one large green plastic tote box. You can keep everything organized and it doesn't take up much storage space.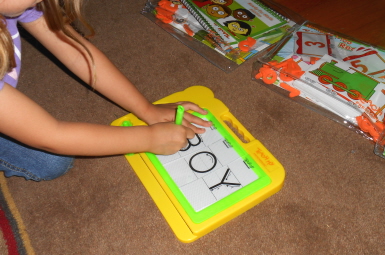 Overall, I am giving this product a huge 10 stars out of 10 stars! Gia thinks we are playing and I love the fact that she is learning new things and she is having fun while doing it. These learning kits are absolutely fantastic and would make a GREAT holiday gift! You can shop for all of these products over at the TeachMy web site store.
* This post contains affiliate links. If you make a purchase, we may or may not receive a small commission which helps to support this site. Thank you!

Disclaimer: Shelly has personally reviewed the product listed above. Shelly has not received any monetary compensation for her review. Shelly did receive a free product to try out so she could evaluate and use it for her review. Her thoughts & opinions in this review are unbiased & honest and your opinions may differ. Two Classy Chics is not responsible for delivery of any giveaway items won from this blog. We are not responsible for injury or mis-use of any products won from the Two Classy Chics Blog. Please read our Terms of Service & Disclaimer Policy before entering our giveaways. This giveaway is not affiliated with Facebook or Google+ in any way. Thanks!