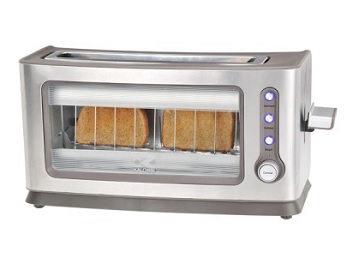 I am super excited to be including KALORIK in our holiday gift guide again this year. I am a huge fan of KALORIK and their products and own many different items from this company that I personally use in my own home. Not only that, I love to purchase KALORIK products to give as Birthday gifts, Wedding gifts, Bridal Shower gifts and for Holiday gifts.
Today I am reviewing the 2-Slice Glass Panel Toaster from KALORIK. I first want to say this…I have owned many toasters in my 46 years of life and NONE of them even come close to the quality of this one!
Stainless Steel 2-Slot Glass Panel Toaster Features:
* Transparent double glass panel for viewing bread during browning process
* 2 slice, long slot, width 38mm (accommodates almost everything)
* High-lift function
* Stop/Defrost/Reheat function
* Bagel function
* 7 level adjustable browning control
* Removable crumb tray & internal glass panel, for easy cleaning
* Stainless Steel housing
* Blue lighted indicators for all functions
* Cable storage under the base
* Comes with 1 year limited warranty
My Thoughts: I do a lot of cooking and entertaining here in my home. I would estimate that I use my toaster at least once a day. We love toasting a variety of breads, bagels, waffles, French toast, toaster pastries and other things in our toaster. We enjoy using it for breakfast foods and for snacks!
Wow, where do I begin with this one? First…I love that double glass panel front. I can see our food items inside the toaster as they are browning or reheating up. This ensures that I don't burn anything! Not only that, if fascinates the Princess and she will sit there and stare at the toaster while I am toasting up her bagel or toaster pastry.
Next, I appreciate the size of the slot. I have used this toaster for everything and have had NO issues of something not fitting down into that slot. Furthermore, I haven't had the toaster jam on me at all…nope, not at all and I contribute that to the size of the slot.
Every member in our family likes their toaster items browned differently. I like a lot of "toasting" and hubby only likes "light toasting". With the 7-level adjustable browning control, I can set it to everyone's preference to get the perfect toasting for each individual. It's also very helpful when you are toasting a lot of different items like bread, bagels, toaster pastries, etc.
I often make up French toast ahead of time and then freeze them for use throughout the week. I do the same with waffles. Thanks to the defrost function I can defrost them in the toaster and then toast them to perfection! You would of never guessed they were once frozen. LOVE, LOVE, LOVE that feature!!!
Finally, cleaning this toaster is quick & easy! There is a crumb tray that slides out from the side (you do not have to turn your toaster upside down like those old models) and the internal glass panel removes for cleaning too. I did say easy folks and I really mean that!
Wow…this is one FANTASTIC toaster!!! Seriously, how the heck did I live without this beauty for so long? I don't know but I am sure glad that this toaster sits proudly on my kitchen counter now! It's beautiful, functions like a dream, toasts to perfection and is easy to clean! Love EVERYTHING about it!
* This post contains affiliate links. If you make a purchase, we may or may not receive a small commission which helps to support this site. Thank you!

Disclaimer: Shelly has personally reviewed the product listed above. Shelly has not received any monetary compensation for her review. Shelly did receive a free product to try out so she could evaluate and use it for her review. Her thoughts & opinions in this review are unbiased & honest and your opinions may differ. Two Classy Chics is not responsible for delivery of any giveaway items won from this blog. We are not responsible for injury or mis-use of any products won from the Two Classy Chics Blog. Please read our Terms of Service & Disclaimer Policy before entering our giveaways. This giveaway is not affiliated with Facebook or Google+ in any way. Thanks!