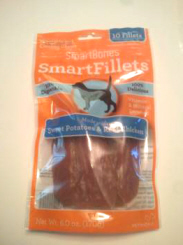 *complimentary product received for review purposes*
Smart Bones SmartFillets are an excellent natural alternative to rawhide chews that dogs love.  Mine did.
Have you ever stepped on a chewed up rawhide bone?  Honestly, I don't think there are many foul experiences that top that one.  My dogs don't realize I don't want them to share the rawhide bones.  And once Old Man Oz decided to bring it over and drop it into my hand.  Ewwww!  So slimy and so foul. My hate of rawhide sent me toward other treats, including whole carrots.  While the dogs love carrots, they also want meatier treats every once in a while.  I gravitate toward the more natural side of things, even for the dogs.  Cleaner dog treats do exist and they've tried a few over the years.  When Smart Bones offered a bag of treats, I figured it wouldn't hurt to try something new.   Besides, they had me at rawhide-free.
Smart Bones' SmartFillets are "The Smart Alternative to Rawhide."  Chicken-based, these treats are vitamin-fortified, easy on the teeth, and are not likely to lead to the discovery of an abandoned half-chewed treat.  While other Smart Bones products are bone-shaped, Smart Fillets are an alternative chicken jerky.  The 5″ strips (plus or minus) are slightly softer than jerky strips my dogs have had in the past.  Hubby and I thought they looked like slices of chicken beast.  And the first two ingredients in SmartFillets are sweet potato and chicken. Other than the addition of food coloring, I thought the ingredient list was pretty good, especially given the price.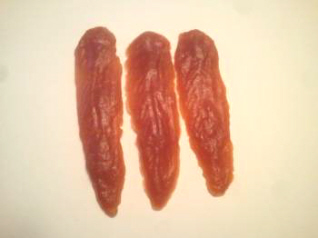 I opened the package and gave one to each pup.  One snorted in excitement when she got a whiff of the treat, then ran to her snacking spot.  All three snacked in silence and all were satisfied.  So satisfied that the morning crazy hyper dog session was cancelled and they snuggled happily. I'm not positive that the SmartFillets were responsible for the mellow time, but a similar mellow session followed a few days later after a treat session.
A re-closeable bag, affordable price, and high dog enjoyment factor make these worth another try.  I'll skip the more expensive chicken and sweet potato treats in favor of these.
If you're like me and want to give your pups a nice treat, SmartFillets are perfect.  They're available in packages of 10 ($3.99) or 30 ($9.99).  The 10 pack will fit nicely in your pup's stocking.  What?  I know I'm not the only one who does that!  Pick up a pack today and your puppy will thank you.
Giveaway: Two (2) lucky winners will each receive 2 packages of the SmartFillets to give to their own pup! Yay!
CONTEST CLOSED
Giveaway Details: This giveaway is open to US Residents age 18 or over. You must complete the Mandatory Entry to be eligible. This giveaway will close on November 5th, 2013 at 11:59pm EST Time.

Disclaimer: Sherrie Thompson has personally reviewed the product listed above. Sherrie has not received any monetary compensation for her review. Sherrie did receive a free product to try out so she could evaluate and use it for her review. Her thoughts & opinions in this review are unbiased & honest and your opinions may differ. Two Classy Chics is not responsible for delivery of any giveaway items won from this blog. We are not responsible for injury or mis-use of any products won from the Two Classy Chics Blog. Please read our Terms of Service & Disclaimer Policy before entering our giveaways. This giveaway is not affiliated with Facebook or Google+ in any way. Thanks!