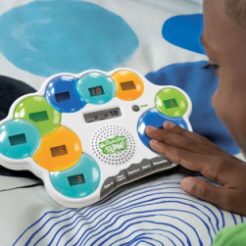 Today I would like to introduce you to the company called Educational Insights based out of Southern California. Educational Insights is the manufacturer of playful products with serious educational value, including subject-specific classroom products, teacher resources, educational toys, and games. Their products are designed by seasoned educators and parents who know that children love to learn when you make that learning experience fun!
For review I received the Multiplication Slam electronic handheld game to review for all of you. This game is made for children ages 8 and up or for those who are in third grade or higher.
This game will help kids master & memorize the multiplication tables using multiples, multiplication facts, factor pairs and sequences. The game is a hand-held game with fun, physical play patterns, timed questions, flashing lights, sound effects and includes five challenging built-in games. You will need to supply the 3 AA batteries which are not included.
Objective: Read the problem, scan the possible answers and slam the one that's correct! You better move quickly, though as each game is timed and the faster you get through the questions, the better your score will be. The missed problems are recycled until they are answered correctly, ensuring comprehension and mastery.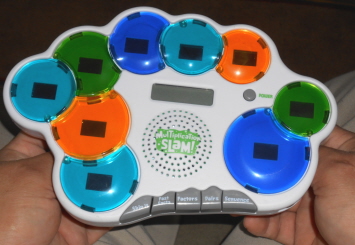 My Thoughts: My 9 year old nephew has some slight learning disabilities so I was anxious to get this Multiplication Slam game into his hands. One of the areas he struggles in at school happens to be math and he loves video games…so this game is perfect for him.
Cameron was down for a visit about 12 days ago and I gave him the game. Hubby and I sat down with him and read over all of the instructions and spent about 5 minutes showing him how to play it. Then it was his turn…oh boy…this game was a "HIT" right from the start!
He understood within minutes how to play it and he continued for 2 hours straight! No kidding…he skipped going outside to play ball and stayed inside to play with his new electronic math game! After our visit, I sent the game home with him so he could continue to play it and learn from it.
A few days ago I gave my sister-in-law a call to see how Cameron was doing with the new game. She told me that he has played with it every day since I gave it to him and that in just this short period of time…his math & multiplication skills have improved! Yay!!! That's exactly what I wanted to hear!
If you have children who are having a hard time learning their multiplication tables or just need some additional math help…this game would be perfect for them because while they are learning math…they are having fun too!
You can purchase the EDUCATIONAL INSIGHTS MULTIPLICATION SLAM
directly from Amazon at a really great price.
* This post contains affiliate links. If you make a purchase, we may or may not receive a small commission which helps to support this site. Thank you!

Disclaimer: Shelly Hill has personally reviewed the product listed above. Shelly has not received any monetary compensation for her review. Shelly did receive a free product to try out so she could evaluate and use it for her review. Her thoughts & opinions in this review are unbiased & honest and your opinions may differ. Two Classy Chics is not responsible for delivery of any giveaway items won from this blog. We are not responsible for injury or mis-use of any products won from the Two Classy Chics Blog. Please read our Terms of Service & Disclaimer Policy before entering our giveaways. This giveaway is not affiliated with Facebook or Google+ in any way. Thanks!