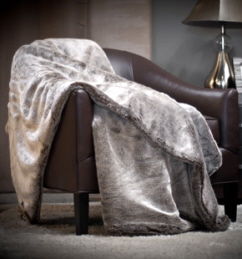 ** 2013 Holiday Gift Guide Feature **
Today I would like to introduce you to the company called PoshPelts who sells some of the most luxurious faux fur products that I have ever seen! PoshPelts are luxurious, affordable, animal-friendly, decorative, easy to care for and they make exquisite gifts.
The luxury faux fur throw blankets come in several different styles: Russet Chinchilla, White Cougar, Red Fox Tail, Black Bear, Double-Sided Chinchilla, Artic Fox, Raccoon and Leopard. Prices vary according to the style of faux fur throw that you select.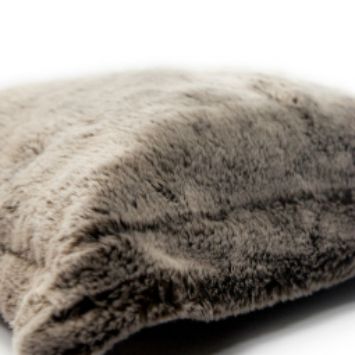 Back in the springtime I had the pleasure of reviewing the Black Bear Faux Fur Throw and this time around I am reviewing the Double-Sided Chinchilla Faux Fur Blanket. Just when I thought their products couldn't possibly get any better, they do! Wow…Wow…Wow and a quadruple Wow!
I am super excited to be featuring PoshPelts in our 2013 Holiday Gift Guide because I think EVERYONE would love to receive one of these luxurious faux fur throw blankets as a holiday gift. I mean really…wouldn't you love one? Of course you would!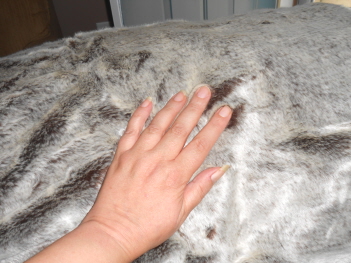 This Double-Sided Chinchilla Faux Fur Blanket measures 50″ by 70″ in size. It is plenty big enough for 2 adults to snuggle together underneath it. The ½ inch soft brown fibers are tipped with silver-white, creating a shimmer to the folds of the fabric as the throw is tossed over your chair, sofa or the end of your bed.
There are brown undertones. It nicely accents furniture or room decor that is strongly or subtly patterned in earthy tones. Since I decorate a lot in a coastal beach theme…this Chinchilla throw works perfectly with my home décor. Not sure what to buy a loved one? This one is a great choice since it is neutral in color and not gender specific. Great choice for sure!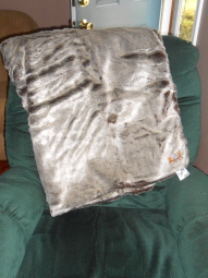 It is made out of 80% Acrylic and 20% Polyester and trust me…it looks like real fur and feels like real fur too! I have never seen BETTER faux fur than this! Oh my gosh…it's a stunner! When it comes to cleaning, they recommend dry cleaning or wash in cold water on the gentle cycle. Do NOT place it into a heated dryer at all! You want to take great care with it as it's beautiful & you want it to last forever!
I had the blanket on my swivel rocker in the family room but I have since moved it to my rocking chair in my master bedroom. I have a sitting area in there that I like to sit down in my rocker and read a good book. This throw is perfect for that and let me tell you…it is SUPER SOFT against your skin! It's not a thin blanket and I would describe it as a medium to heavy-weight throw blanket. It will definitely keep you warm this Fall and Winter season!
I give this product a huge 10 stars out of 10 stars on my rating scale. It's beautiful, extremely well-made, a great luxurious gift to give and well…I think everyone should own at least one faux fur blanket from PoshPelts!

Disclaimer: Shelly has personally reviewed the product listed above. Shelly has not received any monetary compensation for her review. Shelly did receive a free product to try out so she could evaluate and use it for her review. Her thoughts & opinions in this review are unbiased & honest and your opinions may differ. Two Classy Chics is not responsible for delivery of any giveaway items won from this blog. We are not responsible for injury or mis-use of any products won from the Two Classy Chics Blog. Please read our Terms of Service & Disclaimer Policy before entering our giveaways. This giveaway is not affiliated with Facebook or Google+ in any way. Thanks!