I am not a huge baker. My skills have never been overly developed over the years! I am limited to cookies, cakes and brownies. Sometimes I test the waters with a pie or two. My bakeware has seen better days as most of it was acquired when we got married almost 20 years ago. So when I was able to review some fabulous new bakeware products, I was happy to give them a try and replace some old pans!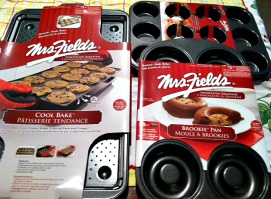 Love Cooking Company has partnered with the Mrs. Fields Company to bring unique designs and useful baking tools that your kitchen will be excited to receive! They have several designs that I have never seen before and some pieces that are tried and true. I was send 4 great pieces to review for you – The Cool Bake, Brookie Pan, Bakers Stor N Go, and the 12 ct. Muffin Tin.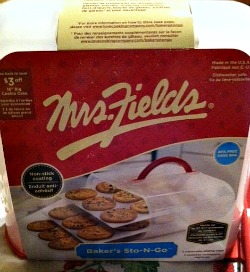 One of the things I love to make the most is brownies. I am actually pretty famous around these parts for my brownies so the Mrs. Fields Brookie Pan was an exciting tool I couldn't wait to try it! The concept is to combine a cookie with a brownie and enjoy 2 treats together. Who wouldn't not love that?
Another thing I love to make is Tollhouse cookies and Mrs. Fields The Cool Bake baking sheet is just the thing to make this fabulous treats. I thought that combining Tollhouse cookies along with the brownies would be an amazing combination so I made a batch of cookies and baked them on The Cool Bake tray. What is great about this baking sheet is that it is two different pieces; a baking sheet and the cooling rack. The cookies bake on the cooling rack that allows you to list the tray off of the cooking sheet so they can cool without being moved while they are hot.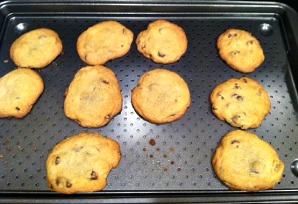 The Brookie pan is a non stick pan made from carbon steel and looks like mini bundt cakes. To create the Brookie – brownie and cookie combo, You place the cookie in the middle and surround it with the brownie mixture. I think I made mine backwards somehow because they don't look like the picture on the website :), but the taste is awesome! What is great is that there is a small divot on one side of the Brookie that is perfect for holding a scoop of ice cream or whipped cream. This is a big dessert! Definitely cut them in half for smaller children. What a great treat!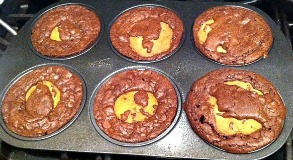 The Mrs. Fields Bakers Stor N Go is a great item that you can use anytime! This is an awesome tool that will get so much use in my home. What is great about this storage case is that the racks inside are adjustable so that you can put cookies, brownies or even a cake and take it wherever you go. It is great for just storing your sweet treats at home. It is lightweight and easy to clean too.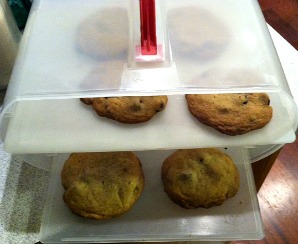 The last item I received is the Love Cooking Company Muffin Tin. I only have 1 muffin tin and it is sooo beat up! It is at least 20 years old and time to hit the trash bin. This lovely tin is made from carbon steel and is non stick. I use my muffin tins the most when I make my meatballs. They are so good and they bake in just 20 minutes in the muffin tin. Blueberry muffins are also a hot item at my house too.
All of these products have been welcomed warmly into this house! They work great and clean up is a breeze! I have a bake sale that I need to make goodies for next week and I am excited to have brand new bakeware products to make sure what I do make looks great and tastes great too so we can make good money for our charity!
* This post contains affiliate links. If you make a purchase, we may or may not receive a small commission which helps to support this site. Thank you!
Disclaimer: Chris has received no compensation for this post but did receive free products for the sake of review. Her opinions and words are her own. Your thoughts & opinions may differ. The sponsor is responsible for shipment the prize. Please read our Official Rules before entering this giveaway. We must receive all entries by the end date of the contest and the odds of winning are determined by the number of entries received. No purchase necessary to enter.