** 2013 Holiday Gift Guide Feature **
When it comes to styling tool, there really is a difference between a drugstore product and a professional styling implement. For sleek looking and amazing hair, choosing a professional styling tool will be the best decision you will ever make. I was happy to review an awesome new product from my friends at Infrashine and share it with you today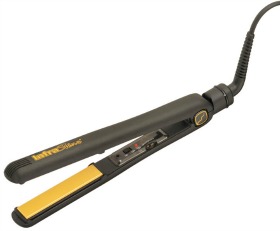 The Infrashine Micro-Silica Infused Ceramic Styling Flat Iron has been made even better! InfraShine's new Micro-Silica infused (MST) ceramic styling irons provides superior results with even less styling effort. The streamlined ergo-design of the MST™ styling iron is ultra-lightweight with sleek, easy to grip handles and a heavy-duty spring system, which offers a firmer grasp and increased control for all hand sizes.
The ultra-fine high-grade silica fills the ceramic micro-pores of the plates to allow the iron to glide easily through even the coarsest hair. This ultra-sleek surface, along with InfraShine's advanced anionic ceramic heating technology, works to smooth the cuticle layer and seal precious moisture in, leaving hair silky and luster-rich. I was excited to give this a try. I was sent the medium size 1-inch Flat Iron to review.
When it comes to getting the right hairstyle, there are several different tools that I use depending on my day. I think every women I know up close and personal has at least a curling iron or a flat iron in their arsenal along with their blow dryer. I have reason to use all three depending on the look I want to achieve.
I decided to use this on my friend so I could see the results easier than on myself. After all, it is hard taking a pic of the back of your head… The iron itself is super easy to use. It heats up very quickly and the attached swivel cord makes it a dream when you want to create curls and flips with it.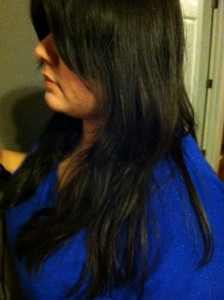 So here is her before picture that shows some wave and normal looking hair. We then used the flat iron only on her hair. No additional styling products before or after was used. In the second picture below, you can see how much shine her hair now has. It was amazing! We even did a little flip curl that stayed even though we straightened that part again. So if you used this one for curling your hair, that curl is not going anywhere!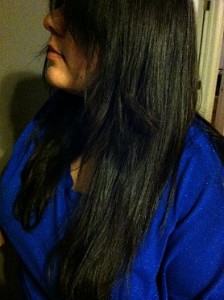 We both are in Love Love this unit! The size is perfect for straightening and curling and you can get all the way to the root without burning your head. The plates did not stick at all and even though she did not brush her hair before using the iron, there was no yanking or pulling. The iron just glided through. Beautiful!
Disclaimer: Chris has received no compensation for this post but was given free product for the purpose of review. Her opinions and words are her own. Your thoughts & opinions may differ. Please read our Official Rules before entering this giveaway. We must receive all entries by the end date of the contest and the odds of winning are determined by the number of entries received. No purchase necessary to enter.