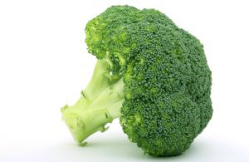 Broccoli is one of those healthy vegetables that we certainly don't eat enough of here in our household. With that said, I have been trying to incorporate broccoli into our diets several times a week.
Last week I made this recipe that my sister gave to me and it was really easy to prepare…tasted fabulous once it was done.
Homemade Broccoli Casserole Recipe
3 pkgs. broccoli
1 can cheddar cheese soup
16 oz. sour cream
1 pkg. onion soup mix
Ritz cracker crumbs
Thaw broccoli and cook according to package directions; drain away water. In a large mixing bowl combine together the broccoli with the cheddar cheese soup, sour cream and onion soup mix until well combined. Pour mixture into a casserole baking dish. Sprinkle the cracker crumbs on top.
Bake the casserole in a preheated 350 degree oven for 25 to 30 minutes or until done. Remove and let stand for 5 minutes. Serve.
Looking for some new glass bakeware? You can purchase the Pyrex Easy Grab 8-Piece Glass Bakeware and Food Storage Set
directly from Amazon for a great price!
* This post contains affiliate links. If you make a purchase, we may or may not receive a small commission which helps to support this site. Thank you!