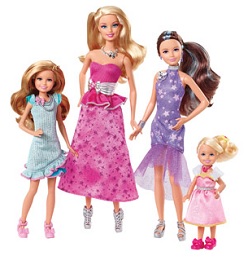 ** 2013 Holiday Gift Guide Feature **
The holidays are coming and I don't know of any little girl who wouldn't like to see this next item underneath the Christmas tree!!! With more than 25 titles and a decade in the movie business, Barbie doll is one of Hollywood's hottest leading ladies.
This fall, the iconic doll brings her latest release to the small screen with an all-new adventure. Stacie, Skipper and Chelsea are along for the ride in Barbie & Her Sisters in A Pony Tale. Celebrating family and friendship, the new direct to DVD title features positive themes, memorable music and characters. A perfect addition to any little girl's collection.
Available Now and Perfect for Gift-Giving:
* Barbie & Her Sisters in A Pony Tale DVD – In this all new movie Barbie sets off on an equestrian adventure & this time brings along her sisters, Stacie, Skipper and Chelsea. The sisters travel to a posh horse academy in the majestic Swiss Alpine.  Available on Blu-ray Combo Pack $26.98 and DVD for $19.98.
* Barbie & Her Sisters in A Pony Tale Sisters' Gift Set – Girls can share special moments with Barbie and her sisters at home, creating their own adventures and reliving the glamorous gala scene, long after the movie is done. This set comes with 4 dolls: Barbie, Stacie, Skipper & Chelsea with each one wearing a beautiful gown, complete with accessories. This set is for ages 3+ and retails for $37.99.
* Barbie & Her Sisters in A Pony Tale Train & Ride Horse – Girls can recreate scenes from the movie where Barbie and her sisters travel to a riding academy where she forms a connection with a wild horse & trains him with care. Press the horse's forehead & with a few moves from Barbie the horse will perform training tricks. Raise Barbie doll's arm & the horse will walk, lower her arm and the horse will strop. Lower Barbie's arm completely & the horse will bow.  Retail price $49.99 for ages 3 & up.
For our review we received the Barbie & Her Sisters in A Pony Tale Sisters' Gift Set to check out for all of you. As you all know, I have a 4 1/2 year old grand daughter who "lives" for anything Barbie! Just like most little girls, she can't get enough of Barbie and always has one with her when she visits me. Not only that, she has a toy box here full of Barbie's and Barbie accessories.
This set of 4 dolls (Barbie, Skipper, Stacie and Chelsea come packaged in an adorable box with carrying handle. The box doubles as the "Gala" scene. All of the dolls are beautifully dressed in gowns, shoes and have accessories in the form of Barbie jewelry. The dolls are stunning!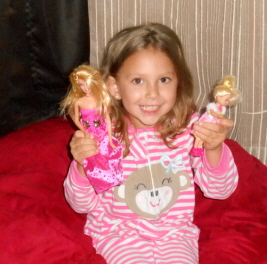 I gave the set to my grand daughter and her eyes got as big as flying saucers and she squealed with delight. I couldn't get them out of the box fast enough for her! Can you imagine that kind of delight on Christmas morning when you give a young girl this set? Wow!
As a grandmother who used to play with Barbie's and buy Barbie's for my now adult daughter…Barbie has come a long way! This is a totally modernized set of dolls! Their hairstyles are super trendy, their gowns are definitely on trend and their shoes…well, I want a pair of those!!!
This is a gorgeous set of Barbie dolls! Ever since I gave them to my little grand daughter, they have went every where with her…even into preschool for Show N Tell day! She loves them and I love giving her quality toys like this that spark her creative imagination. Top Notch!
* This post contains affiliate links. If you make a purchase, we may or may not receive a small commission which helps to support this site. Thank you!

Disclaimer: Shelly has personally reviewed the product listed above. Shelly has not received any monetary compensation for her review. Shelly did receive a free product to try out so she could evaluate and use it for her review. Her thoughts & opinions in this review are unbiased & honest and your opinions may differ. Two Classy Chics is not responsible for delivery of any giveaway items won from this blog. We are not responsible for injury or mis-use of any products won from the Two Classy Chics Blog. Please read our Terms of Service & Disclaimer Policy before entering our giveaways. This giveaway is not affiliated with Facebook or Google+ in any way. Thanks!