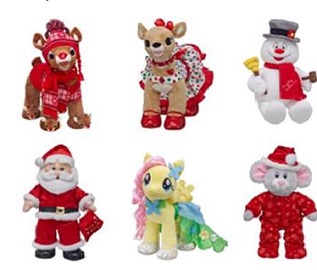 ** 2013 Holiday Gift Guide Feature **
As you all know I have a beautiful little 4 1/2 year old grand daughter who I spend a lot of time with. I am really fortunate that I only live 5 minutes from my daughter & grand daughter and can see them both at any time. This closeness has allowed me to form a really close bond with Princess Gia who is the "apple of my eye".
When it comes to shopping for holiday and birthday gifts for her…I am pretty particular about what I buy. For that reason alone, I am pretty excited to feature Build-A-Bear Workshop in our 4th holiday gift guide.
You can give the gift of friendship this holiday season by purchasing a Build-A-Bear Workshop product. There is something for everyone, boys and/or girls! You can find new holiday favorites like the new My Little Pony friends, winter-themed stuffed animals, personalized picks, gifts that give back, stocking stuffers and more. Of course, you can always give the Build-A-Bear Workshop experience with a Bear Buck$ gift card to make memories that last a lifetime.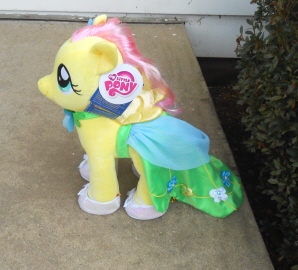 Right now the Princess is really into My Little Pony and this year Build-A-Bear Workshop has Fluttershy, Pinkie Pie, Rainbow Dash and Princess Twilight Sparkle. Each one retails for $25.00 each and they are ready for new homes!
You can personalize the pony friends with clothing & accessories to make the perfect gift. Dress them in signature capes ($13.50 each) or a variety of other stylish fashions that all little girls swoon over. Their colorful manes can be brushed, combed, braided with an exclusive rainbow hairbrush ($3.50), available only at the Build-A-Bear Workshop.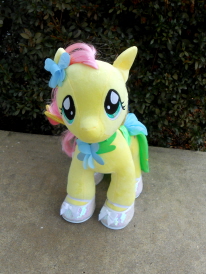 Gia loves and collects My Little Pony items and her favorite pony happens to be the lovely Fluttershy so when I was offered the chance to review one…I was ecstatic about it. I knew when she arrived that Gia would fall head-over-heels in love with her. She arrived dressed in her signature cape and sequined shoes. She arrived perfectly gift boxed and is ready for gift-giving!
When Gia walked in my front door and saw Fluttershy waiting for her…well, she was squealing with delight so loud I almost got a headache! She was loving on her like there was no tomorrow! With that said, I think Fluttershy was enjoying all of the attention she was getting from Princess Gia. To say this pony is loved…well, that would be an understatement for sure!
Fluttershy is living with her new family and goes just about everywhere Gia goes and even sleeps in bed with her every night. It's her new favorite best friend! That's right, Nanny has taken a back seat to Miss Fluttershy now!
These stuffed animals and friends that are available from Build-A-Bear Workshop are top-notch quality and worth every dime! The princess loves her new best friend and I am pretty stoked that we got to review her. My plans, we will be heading to the Build-A-Bear Workshop at our local mall and getting a few more of the My Little Pony animals!

Disclaimer: Shelly has personally reviewed the product listed above. Shelly has not received any monetary compensation for her review. Shelly did receive a free product to try out so she could evaluate and use it for her review. Her thoughts & opinions in this review are unbiased & honest and your opinions may differ. Two Classy Chics is not responsible for delivery of any giveaway items won from this blog. We are not responsible for injury or mis-use of any products won from the Two Classy Chics Blog. Please read our Terms of Service & Disclaimer Policy before entering our giveaways. This giveaway is not affiliated with Facebook or Google+ in any way. Thanks!