I love this time of year, especially when it comes to apples! Fresh apples are so crisp and delicious. Perfect for making your favorite caramel apples or better yet, a tasty apple pie. In celebration of fall, here is a delicious recipe you can use to treat yourself and your family too!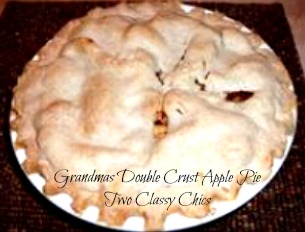 Grandma's Double Crust Apple Pie Recipe
Ingredients
4 large apples, cut into slices, seeds and core removed
2 Tablespoons all-purpose flour
1 cup granulated sugar, divided in half
½ cup butter, softened
½ cup all-purpose flour
ground cinnamon
2 Tablespoons fresh lemon juice
2 prepared pie crusts
Instructions
In a large mixing bowl combine together the sliced apples, 2 tablespoons all-purpose flour and half of the granulated sugar.
Pour mixture into prepared pie crust.
Drizzle lemon juice on top.
Mix together the softened butter, half of the granulated sugar and a ½ cup of all-purpose flour.
Pour on top of apple mixture. Sprinkle cinnamon on top.
Gently place your other prepared pie crust on top.Bake in a 350 degree F. oven for 1 hour or until done.
Remove from oven and place on a cooling rack. Serve with whipped topping or vanilla ice cream.
Looking for a great deal on new glass pie plates? I love glass ones because they're easier to clean and don't get rusty-looking like metal pie pans do. Check out this deal on Amazon.
* This post contains affiliate links. If you make a purchase, we may or may not receive a small commission which helps to support this site. Thank you!