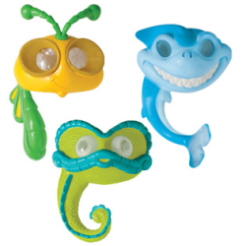 ** 2013 Holiday Gift Guide Feature **
Today I would like to introduce you to the company called Educational Insights based out of Southern California. Educational Insights is the manufacturer of playful products with serious educational value, including subject-specific classroom products, teacher resources, educational toys, and games. Their products are designed by seasoned educators and parents who know that children love to learn when you make that learning experience fun!
For the review we were sent the GeoSafari Jr. Animal Eye Viewers to review for all of you. This set is for children ages 4 and up and includes three viewers: the Insect, the Chameleon and the Shark.
This set of 3 animal eye viewers lets kids: see like an insect with pixelated views, see like a chameleon with two independently rotating eyeballs and see like a shark with blue tint, blind-spot, and rear-view mirrors! Totally fun!
There are a ton of different ways you can use these viewers and you can go to Educational Insight's web site and download free play & learn insect, shark and chameleon activities. Love that!
Fun Facts: Did you know that sharks can see what's behind them? I didn't know that! Did you know that insects can detect movement faster than we can? I didn't know that either! Did you know that chameleons can look in two-different directions at once? I admit, I did know that one!
Our Thoughts: Oh my gosh…these animal viewers are just super cute and way too much fun! The set is made for kids ages 4 and up & I do agree with that age recommendation. The viewers are perfectly sized for a child's head and I love that the animal's body is the actual handle for the viewer…too cute!
I had Princess over to our house a few days ago and we got out this set of animal viewers to play with. Before I get started with this…I did go online and print out all kinds of fun facts about sharks, insects and chameleons so that I could teach her about each of these different animal groups.
We had our little "play" session for about an hour and she was in-love with these animal viewers. Her favorite one out of the three was the insect and said it reminded her of a grasshopper…although she likes all three of them, that one is the one she gravitates to.
We had a great time sitting down and teaching her all kinds of things about these animals and she really understood the things we were telling her. Some of this is due to the fact we have season passes to 3 different zoos and take her all of the time to see the zoo animals. The next time we go…we are definitely taking this set with us!
You can purchase the Educational Insights GeoSafari Jr. Animal Eye Viewers, Box Set of 3
directly from Amazon for a really affordable price.
* This post contains affiliate links. If you make a purchase, we may or may not receive a small commission which helps to support this site. Thank you!

Disclaimer: Shelly Hill has personally reviewed the product listed above. Shelly has not received any monetary compensation for her review. Shelly did receive a free product to try out so she could evaluate and use it for her review. Her thoughts & opinions in this review are unbiased & honest and your opinions may differ. Two Classy Chics is not responsible for delivery of any giveaway items won from this blog. We are not responsible for injury or mis-use of any products won from the Two Classy Chics Blog. Please read our Terms of Service & Disclaimer Policy before entering our giveaways. This giveaway is not affiliated with Facebook or Google+ in any way. Thanks!