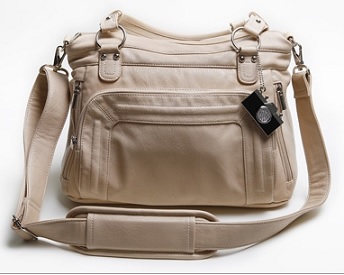 ** 2013 Holiday Gift Guide Feature **
The holidays are quickly approaching and many of us are looking for a special gift to give to the photography lover or to any person who carries around a lot of camera and/or video gear with them.
As a scrapbooker and professional reviewer, I carry around 2 different cameras, a video camera, iPad, iPod and an iPhone with me just about every where that I go. Seriously, I carry around a lot of electronic gear with me!
Today…let me introduce you to Epiphanie by Maile Wilson. Epiphanie sells some of the best camera bags for men & women that I have ever seen! You will find camera handbags, camera backpacks and camera laptop styled bags for everyone on your holiday gift-giving list.
For the review I received a complimentary Ginger bag in the beautiful Bisque color for our review. I selected this particular bag because like many women, I carry a lot of electronics & gear with me. I love the neutral color (Bisque) which makes it a year-round bag and goes with everything.
Overall, the bag measures 14″ long by 8″ wide by 10″ in height. It is a fairly light bag and empty it only weighs approximately 2 1/2 lbs. It features a shoulder strap with a 10″ drop length and a detachable, padded cross-body strap measuring max 51″ in length. If you love to be hands-free while shooting photos and traveling, this bag is the perfect cross-body bag!
It is constructed with water-resistant, high-quality synthetic leather that looks and feels like the "real" thing! Seriously, it is buttery soft! The bag features a front zipper pocket with interior netting: 10.5″L x 7″H x 1″D in size, a back zipper pocket: 5″L x 5″H in size and two side zipper pockets: 5.5″L x 5″H in size.
Inside the bag you will find numerous dividers that are easily attachable & detachable thanks to the hook & loop (Velcro) so when you are not using it as a camera bag, you can remove the dividers and use it as an everyday handbag which is really cool! The interior is super-soft and is lined to protect all of your gear.
You can really customize this bag to accommodate all of the gear and items that you may be carrying. On this particular day we were on vacation down to the shore and I had my video camera, charging pack, iPod, iPod dock and ear buds in the bag. I took my digital camera out of it to take the photos so that is why you don't see that inside the bag. As you can see…everything stays protected and neatly organized.
I LOVE, LOVE, LOVE this bag! Seriously, I LOVE everything about it! It's light-weight, super soft, comfortable to carry around and keeps all of my electronic gear neatly organized and protected. In addition to the electronic gear, I was able to toss in my eyeglasses, wallet, sunglasses and a few other miscellaneous things and while at the Zoo, I didn't have to carry around any extra bags with me. I love that detachable cross-body strap and for the most part…I keep it on the bag so that I am usually hands-free.
This Women's camera bag is extremely well-made and very stylish! When others see the bag, they would NEVER guess that it's a camera bag with all of your electronic gear inside it. Furthermore, you can remove the dividers inside and use it as an everyday bag too! LOVE IT! This bag retails for $164.99 and is worth every dime!!!
Giveaway: The Winner may choose any in-stock bag of their choice!!! Fabulous!!!
CONTEST CLOSED
Note: Giveaway is open to US & Canada ONLY! However, if the winner lives in Canada the winner will have to pay for shipping. If winner is USA…shipping will be free.
Giveaway Details: This giveaway is open to residents of the US  & Canada ONLY age 18 and over. Please read our Terms of Service & Disclaimer Policy before entering. This giveaway will close on November 7th, 2013 at 11:59 pm EST time. No purchase necessary to enter or win.

Disclaimer: Shelly Hill has personally reviewed the product listed above. Shelly has not received any monetary compensation for her review. Shelly did receive a free product to try out so she could evaluate and use it for her review. Her thoughts & opinions in this review are unbiased & honest and your opinions may differ. Two Classy Chics is not responsible for delivery of any giveaway items won from this blog. We are not responsible for injury or mis-use of any products won from the Two Classy Chics Blog. Please read our Terms of Service & Disclaimer Policy before entering our giveaways. This giveaway is not affiliated with Facebook or Google+ in any way. Thanks!