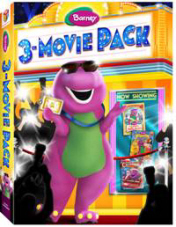 ** 2013 Holiday Gift Guide Feature **
Join Everyone's Favorite Purple T-Rex And His Friends For A Dino-Sized Movie Night! BARNEY®: 3 – MOVIE PACKAvailable On DVD October 15th, 2013 From Lionsgate And HIT Entertainment!
Trusted by moms and adored by children, Barney displays sharing, caring, imagining, dancing and learning on television, online and through live events, home entertainment, toys and publishing. In 2013, Barney celebrates over 25 years of sharing, caring and imagination with the Barney 25 Million Hugs campaign. Barney is inviting fans of all ages to help him reach his goal of sharing 25 million Barney hugs around the world through the site www.ShareBarneyHugs.com and via email, Facebook and Twitter.
PROGRAM DESCRIPTION: It's a night of epic proportions filled with imagination, caring, learning, singing and dancing when Barney®: 3–Movie Pack roars onto DVD October 15, 2013 from Lionsgate and HIT Entertainment. This super-dee-duper collection of three feature length movies will fill the hearts of young ones as they enter the land of make believe, have fun making music and celebrate the biggest event of the year – Christmas. The Barney®: 3–Movie Pack DVD will be available for an incredible low price of $19.98.
THE 3-DVD MOVIE PACK INCLUDES:
Barney: The Land of Make Believe: Join the adventure with Barney, BJ™ and Baby Bop™ as they discover anything can happen in The Land of Make Believe! When a lost, young princess from a storybook magically appears, Barney and his friends set out on a quest to help her find her way home. Along the way, they swim with dolphins, see a beautiful mermaid and even meet a magician! Come along for a story as big as your imagination!
Barney: Let's Make Music: It's time for a musical adventure at Barney's Fantasy Fair! When a little girl named Melanie dreams of playing her violin in a talent show, Barney, BJ and Baby Bop help her realize her dreams with the help of a new dino friend, Riff™, who knows how to find music everywhere! Riff shows the friends all about music and sounds as they sing favorite songs, play games and ride amazing rides! They also discover that some dreams are even bigger than they imagined. So head to the fair, join the fun and let's make music together!
Barney: Night Before Christmas – The Movie: It's a memorable Christmas Eve as Barney, BJ and Baby Bop take their friends on a musical journey to the North Pole and bring them face to face with Santa Claus! The excitement builds as Santa gives his guests a once-in-a-lifetime tour of his brightly decorated home. The children discover his antique music box, see amazing displays of his favorite toys and climb aboard his train for an incredible ride. When Mrs. Claus notices that the elves need help finishing up last minute Christmas chores, she escorts the group to Santa's Toy Factory. Join BJ, Baby Bop and the children as they wait patiently to hear the sound of sleigh bells and share in the most magical night of the year with Barney!

Disclaimer: Shelly has personally reviewed the product listed above. Shelly has not received any monetary compensation for her review. Shelly did receive a free product to try out so she could evaluate and use it for her review. Her thoughts & opinions in this review are unbiased & honest and your opinions may differ. Two Classy Chics is not responsible for delivery of any giveaway items won from this blog. We are not responsible for injury or mis-use of any products won from the Two Classy Chics Blog. Please read our Terms of Service & Disclaimer Policy before entering our giveaways. This giveaway is not affiliated with Facebook or Google+ in any way. Thanks!