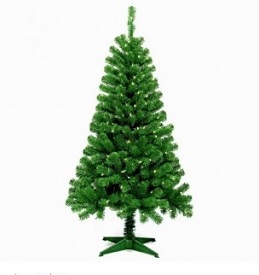 ** 2013 Holiday Gift Guide Feature **
Today we are kicking off our 4th Annual Holiday Gift Guide and we are featuring one of my favorite companies first! If you have been following our blog over the past year you will have read several reviews on various products from the great online store ZestAvenue.
If you are new to our blog, ZestAvenue sells all kinds of high-quality home décor, outdoor garden items, furniture, lighting products, holiday items and more…all of their products are at great affordable price points!
With the holidays quickly approaching the company sent me a complimentary 5FT Wood Trail Pine Pre Lit Artificial Christmas Tree to review for all of you. This size tree is perfect for those of you who have smaller spaces, live in apartments, assisted living centers or to take into the office for a little holiday decorating. For me, I wanted a tree this size because I like having multiple trees decorated in certain themes throughout my home.
What is really cool about this prelit Christmas Tree is the fact that it only takes a few minutes to set up and it takes up very little storage space once you are done with it that season. Within 10 minutes, I had my Christmas Tree fully assembled and plugged in. Ready for decorating within minutes!
Product Details: The tree measures 32″ in width by 32″ in depth by 60″ high when fully assembled. There are Pre-lit clear lights that glow and twinkle from the 370 tips of pine tree branches. It comes complete with amazingly 200 clear lights and stand.  This is an artificial tree for indoor use only.
I love how quick and easy this tree is to set up and I was able to do this task all by myself. There is nothing complicated about it. The branches all slide in and out easily and really look realistic. Furthermore, it doesn't shed and trust me, even artificial trees can shed their faux pine needles but I had no problems with this one at all.
This year I am doing a "coastal" theme tree for the holidays and putting it in our dining room. This tree is the perfect size for that. I like to hang a lot of ornaments on my tree and some of them can be pretty heavy. I hung some weighty ornaments on this one and I didn't have any problems with the branches not holding them or bowing under the weight. They are nice full and sturdy tree branches!
I love that it has clear lights and they are built right into the tips of the tree. I don't have to mess with wrapping Christmas lights around the tree and there are plenty of lights…they didn't skimp on them at all! Aren't they pretty? I think so!
My photos make the tree look small but it's not…it's 5 foot tall! Sorry about that, our dinning room lighting is out right now while hubby remodels that room so I was going off natural sunlight through the windows.
The tree is very sturdy and you don't have to worry about it tipping over easily since it comes with it's own tree stand. You don't have to buy anything extra. Right now I have about 50% of my coastal ornaments on it and once the others arrive I will be adding them along with my mermaid tree topper to complete the look.
As you can see, I have some large and weighty ornaments on the tree and those branches are not drooping from the weight. That really speaks to the quality of this Christmas Tree! I am really impressed with it and for only $39.99 it's a great holiday bargain!

Disclaimer: Shelly has personally reviewed the product listed above. Shelly has not received any monetary compensation for her review. Shelly did receive a free product to try out so she could evaluate and use it for her review. Her thoughts & opinions in this review are unbiased & honest and your opinions may differ. Two Classy Chics is not responsible for delivery of any giveaway items won from this blog. We are not responsible for injury or mis-use of any products won from the Two Classy Chics Blog. Please read our Terms of Service & Disclaimer Policy before entering our giveaways. This giveaway is not affiliated with Facebook or Google+ in any way. Thanks!